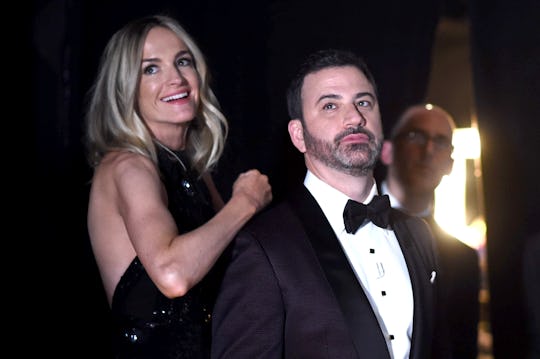 Handout/Getty Images Entertainment/Getty Images
This Is How Jimmy Kimmel & His Wife Were Strong For Each Other When Their Son Underwent Surgery
Few people would argue that Jimmy Kimmel and his wife, Molly McNearney, have had one rollercoaster ride of a year. As you probably know, the host of Jimmy Kimmel Live! and his wife welcomed a baby boy named William "Billy" John last April. A few hours after Billy's birth, however, it was clear there was something seriously wrong with the newborn; as it turned out, he was born with a heart defect. Billy has undergone two major heart surgeries so far — neither of which could have been easy for his, worried and terrified parents. And to help cope with this incredibly difficult time and be there for one another, Jimmy Kimmel revealed he and his wife kept secrets from each other during the time when their son underwent multiple surgeries. And honestly, it makes complete sense.
Kimmel first revealed his infant son, William "Billy" had a congenital heart defect in a moving monologue he delivered on Jimmy Kimmel Live! back in May 2017, as People reported. An emotional Kimmel went on to explain that McNearney delivered their baby boy on April 21, but that a nurse detected a heart murmur and noticed that something was off with the newborn's coloring. They new parents soon found out that Billy was born with a heart disease called tetralogy of fallot with pulmonary atresia.
"The pulmonary valve was completely blocked and he has a hole in the wall between the left and right sides of his heart," Kimmel said while fighting back tears.
Kimmel went onto explain that Billy had surgery to repair the blocked pulmonary valve in his heart, and that it was a success. He also used his platform to address the ongoing health care debate in the United States. "If your baby is going to die and it doesn't have to, it shouldn't matter how much money you make," Kimmel said, according to HuffPost. "I think that's something that whether you're a Republican or a Democrat or something else... we all agree on that right?" He continued:
No parent should ever have to decide if they can afford to save their child's life. It just shouldn't happen.
Recently, Kimmel was interviewed by Oprah Winfrey for the April issue of O, The Oprah Magazine, in which he opened up about what it was like to prepare for that emotional monologue, E! News reported. Kimmel also gave some insight on how he and McNearney initially coped during Billy's terrifying health scare.
"There wasn't a lot of crying, partly because I felt like it would upset other members of my family if I got upset," Kimmel told Winfrey. In particular, it was his wife he didn't want to upset. In an attempt to stay strong for each other, Kimmel and McNearney kept certain secrets until they knew Billy would pull through, E! News reported.
"There were secrets we kept from each other that we revealed only after the second surgery," Kimmel told Winfrey. He continued:
The biggest one was that, I think subconsciously, we didn't want to get too close to the baby, because we didn't know what was going to happen...I don't know if that's right or wrong or common or uncommon. But when I told her I was feeling that way, she said, "Oh, I'm so happy you said that because I was feeling that way too, and I didn't want to express it."
Granted, I haven't experienced a health scare anywhere close to the seriousness of baby Billy's heart defect — but I can totally see where Kimmel and McNearney were coming from. If I wasn't sure whether my baby would live or die, I would be an absolute mess. It makes sense for a parent to be hesitant to form a strong attachment when the prognosis is grim/unknown. Because as much as I wouldn't want to admit it, maybe, just maybe, this subconscious self-preservation tactic would make a loss hurt a tiny bit less. Of course, if things had gone differently for Billy, Kimmel and McNearney would have been utterly devastated — regardless if they were scared of getting "too close" or not.
As always, I appreciate Jimmy Kimmel's candor. These most recent insights into what it was like for his family while Billy was going through open heart surgeries are real. And honestly, it's difficult to imagine how any of us would cope under similar circumstances, unless we've been there ourselves. Because how coping with intense fear and stress is different for everyone.
Check out Romper's new video series, Bearing The Motherload, where disagreeing parents from different sides of an issue sit down with a mediator and talk about how to support (and not judge) each other's parenting perspectives. New episodes air Mondays on Facebook.