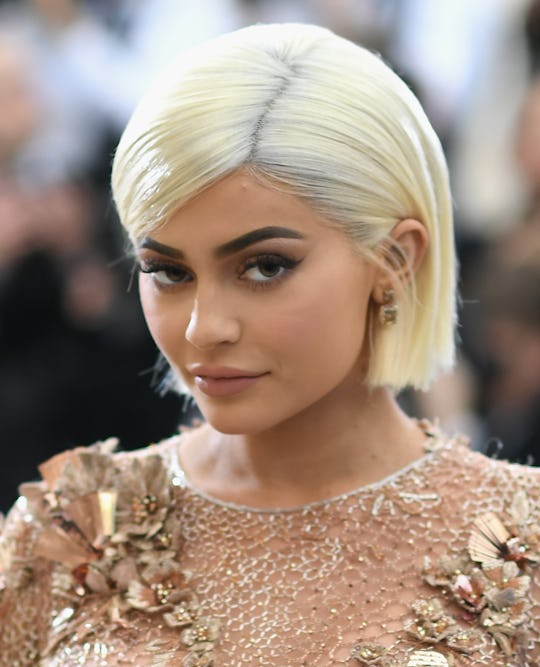 Dimitrios Kambouris/Getty Images Entertainment/Getty Images
This Kylie Jenner Pregnancy "Clue" About A Christmas Photo Is Suspicious AF
Ever since news first broke that Kylie Jenner might be pregnant, her fans have been waiting for final confirmation from the Keeping Up With the Kardashians star herself — but to no avail. Jenner has been keeping mum, which has led fans to start scrutinizing Jenner and her family's pictures, social media, and interviews for any leads. And the most recent Kylie Jenner pregnancy clue involves the Kardashian-Jenner Christmas photo for Keeping Up With the Kardashians, a snapshot that Jenner is suspiciously absent from.
The Kardashian-Jenner clan started filming their Christmas special on Monday (yes, I too believe it is too early for Christmas trees and Christmas special filming, but alas), when they were joined by retired Olympic figure skater Nancy Kerrigan. Kerrigan, the Kardashians and Jenners, Santa, and a troupe of elves all huddled in for a Christmas picture that Jenner later shared on Twitter. One member of the family, though, wasn't present.
According to People, Jenner was around — she simply wasn't ice skating. A source reportedly told People:
They taped a Christmas special at Kris' house. Kylie was there, but didn't ice skate. She kept in the background, but seemed great. Khloé took it easy as well. It was a scheduled taping.
Romper has reached out to Jenner's reps for comment, but did not hear back immediately. News broke of Jenner's alleged pregnancy in late September, but neither she nor her family have confirmed the reports yet. Rumors have also been floating around that sister Khloé Kardashian is pregnant as well, and those remain just as unconfirmed. (Personally, I think the Kardashian-Jenners are just having a great time trolling us, but that's just a theory.)
There are several other recent "clues" that fans have been pointing to as proof of a Jenner pregnancy. In early October, when Jenner shared a Snapchat of herself baking cinnamon buns, fans took it as confirmation of the news. "Ok ok I bet Kylie is trying to subliminally tell us she has a bun in the oven," one Twitter user wrote, sharing a picture of Jenner's Snapchat.
When Jenner then shared a Snapchat picture of her brand's pink and blue phone cases, captioned with, "Which one? I'm thinking blue," fans questioned whether the Snapchat was a low-key gender reveal.
People have also noticed that Jenner hasn't been modelling any of the items from her new Kendall + Kylie lingerie collection with Topshop, although sister Kylie has. Fans have also picked up on the fact that all of Jenner's recent shots on social media have included baggy shirts or focused solely on her face. If Jenner is rocking a baby bump, she's not letting anyone in on the secret — just teasing it enough to make fans even more curious.
Despite the media frenzy surrounding Jenner, the entire Jenner-Kardashian family has managed to stay quiet about the rumors. Mom Kris Jenner has even gotten frustratingly good at responding to questions without actually revealing any new information. "She's not confirmed anything," Kris told The Cut soon after the Jenner pregnancy rumors began to spread. "I think it's kind of wild that everyone is just assuming that that's just happening." She later went on to tell the Hollywood Reporter:
It wouldn't be the family if something didn't happen every single day.
Until Jenner decides to come out and clarify things for herself, it's hard to know if the youngest of the Kardashian-Jenner clan is actually pregnant with her first child. However, her decision to sit out the ice-skating Christmas picture, on top of every other "clue" she's given her fans so far, hint at the fact that she may just be expecting (expecting a little boy, even?).
Who knows? Maybe the pregnancy confirmation be a holiday surprise — and I hear those are worth waiting for.