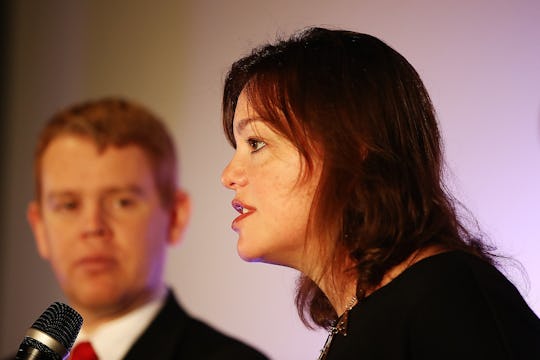 Hannah Peters/Getty Images News/Getty Images
This Lawmaker Biked Herself To The Hospital To Give Birth — At 42 Weeks Pregnant
They say a new mom sometimes discovers powers within herself that she didn't know she had, and for one pregnant lawmaker in New Zealand, that included the endurance to bike herself to the hospital to give birth. Over the weekend, Julie Ann Genter — Minister for Woman and Associate Minister for Transport and for Health representing New Zealand's Green Party, according to CNN — took a ride to the hospital at 42 weeks pregnant to welcome her bundle of joy.
Now, Genter didn't hop on a bike because there were no cabs available; according to CNN, she's always been a major cycling enthusiast. For example, about six months ago, she posted the news of her pregnancy on Facebook with a graphic of a couple bicycling together, holding hands and with a baby strapped to the back of one of the cyclists. The accompanying caption said that said she and her partner, Peter Nunns, "have some amazing news!" It continued, "We're going to have to get an additional seat for the bikes - in the first week of August we're expecting our first child."
Sounds like a pretty major passion for the sport, right? So it makes sense that when the time came to actually get to the hospital to be induced, according to The Guardian, it appears Genter figured she would just carry on usual.... which, in this case, meant biking herself (with Nunns on a nearby bike) from her suburban home to maternity ward of Auckland City Hospital.
FYI, Genter also took a moment en route to post the news to Instagram, proving that there's not much multitasking this politician won't be able to do.
"Beautiful Sunday morning for a bike ride to the hospital, for an induction to finally have this baby," Genter wrote on Instagram. "This is it, wish us luck! (My partner and I cycled because there wasn't enough room in the car for the support crew... but it also put me in the best possible mood!) #42weekspregnant #cycling #bicyclesarethebest."
Also over the weekend, the country's Green Party tweeted that the politician's cycle ride was "the most #onbrand thing ever," according to CNN.
Most Americans might not be familiar with Genter, but the mom-to-be was actually born in raised in the United States to a dietician mother and cardiologist father, and she was raised in Los Angeles before attending the University of California and studying economics in France, according to her official website. Completing her European studies in 2006, according to her bio, Genter didn't want to return to the George Bush-led U.S., which was involved in the war in Iraq at the time. As she explained on her website, Genter chose New Zealand due to the number of progressive Kiwis she had met and, after completing a master's at the University of Auckland, became a member of Parliament in 2011. She is now a dual citizen of both countries, as she clarified on Twitter in 2015.
According to CNN, Genter's left-wing Green Party supports the coalition government being led by the Labour Party, helmed by Prime Minister Jacinda Ardern, the first world leader to have a child while in office in three decades. Ardern, who took six weeks of maternity leave before returning to work earlier this month, according to The Independent, gave birth at the same hospital to which Genter was cycling. In fact, New Zealand's Now to Love magazine said the two young female lawmakers are friends.
As for Genter, she has reportedly said she will take three months of maternity leave from her duties following the birth of her baby, as noted by Mashable. According to Stuff.co.nz, both Ardern's partner and Genter's beloved plan to be stay-at-home dads for the first couple months.
It seems that women and moms are really leading the charge in New Zealand, but there's still work to be done. According to The Spinoff, women made up only 18 percent of senior management at New Zealand corporations last year, which was down 2 percent down from the previous year. But, fortunately, both Genter and Ardern sound like determined mothers and passionate politicians.