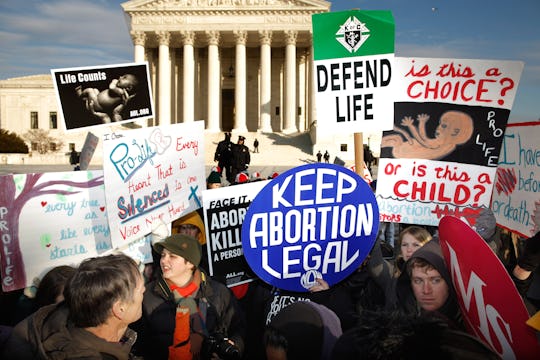 Chip Somodevilla/Getty Images News/Getty Images
This Lawmaker Wants To Make Abortion Illegal For An Honestly Ridiculous Reason
In what might be the worst anti-choice take you'll ever hear, Wisconsin Rep. Scott Allen wants to make abortion illegal to grow the labor force. Yes, really. He reportedly made his absurd suggestion during his remarks on a bill that was introduced in the state assembly to prohibit state health insurance plans from covering abortion, according to The Hill. Romper's request for comment from Allen's office was not immediately returned
Allen said on the floor, "labor force shortages are tied to population declines. And labor force shortages are a limiting factor in economic growth. And limited economic growth poses a problem when government tries to pay for public services and infrastructure," according to a video of the proceedings shared by NARAL Pro-Choice America. He added that despite these economic woes, "Democrats continue their effort to support the abortion industry," as Think Progress reported.
Before tackling the absurdity of his comment that implies women are incubators, it's important to know that Wisconsin already doesn't pay for most abortions through the state health insurance market — it only covers abortion if it is medically necessary or in the case of rape or incest.
According to The Capital Times, Democrats tried to add two amendments to the bill that would take away the provision that victims report their sexual assault before being "eligible" for an abortion and language to clarify that women can still have their contraception covered. Both measures were rejected, the newspaper reported.
Wisconsin's abortion laws are already some the most hostile to women in the entire country, according to the Guttmacher Institute. Women have to receive state-directed counseling that's designed to discourage abortion and then wait 24 hours, which means two trips to a facility. They also have to get an ultrasound, after which the provider is required to show the woman an image and describe it to her, the institute notes. The state's ban on abortions after 20 weeks was also written in a way that asserts a fetus can feel pain at that point, despite the lack of any scientific or medical evidence, according to Wisconsin Public Radio.
So it's very clear that certain Wisconsin conservatives are not worried about women's constitutional rights under Roe v. Wade or the labor market. It's just that they think abortion is wrong. Allen said as much in his remarks. According to WIZM in Wisconsin he said, "Often in public debates people are afraid to say it, but let me just say it: Abortion is wrong. Although it may be legal we should in no way shape or form should we provide public funding for abortion."
Every one has a right to believe what they choose, but as long as Roe v. Wade is the law of the land, abortion is a right. If lawmakers want to decrease abortions, preventing unplanned pregnancies is a great way to start. Get this: Abortion rates in Wisconsin have gone down since the Affordable Care Act went into effect. According the Guttmacher Institute, there was a 21 percent decline in the abortion rate between 2011 and 2014.
In addition to that, the Wisconsin Department of Health Services reports that in 2016 there were almost 66,500 births last year, down from 72,700. Dr. Deb Ehrenthal, a professor at the University of Wisconsin-Madison told CBS News that that's likely due to access to more effective birth control. If abortion is so "wrong" in the eyes of legislators like Allen and anti-choice crusaders, you'd think they'd take better care of women's reproductive health. Instead they choose to push forward legislation and ideals that do the exact opposite.
This delusion starts with Gov. Scott Walker, who, according to Planned Parenthood Wisconsin, has tried to restrict access to birth control in the past, passed health care laws that left thousands of women uncovered, and repealed a sex education law that prevented teen pregnancy. Medical professionals and other legislators seem to understand that access to health care, contraception, and being able to exercise their constitutional right to plan their families reduces the number of abortions.