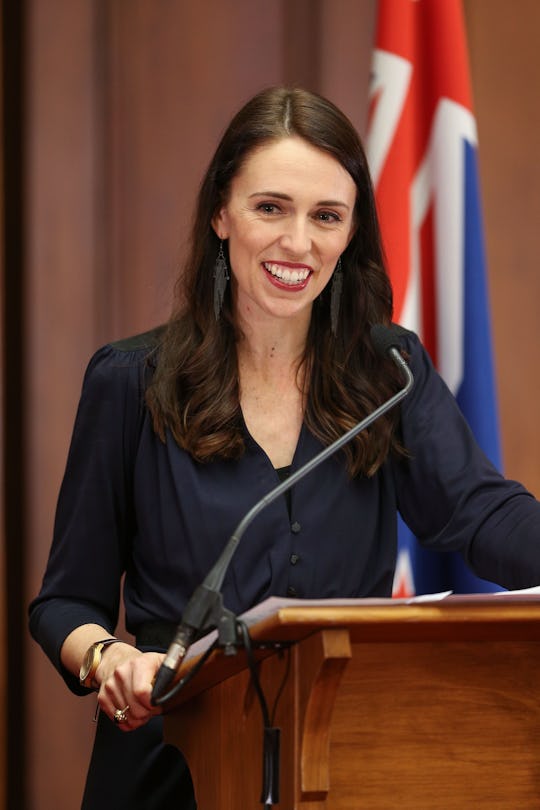 Hagen Hopkins/Getty Images News/Getty Images
This Lawmaker Will Be The First In Decades To Give Birth While Serving In Office
The Prime Minister of New Zealand, Jacinda Ardern, just announced that she's expecting her first child with her partner this summer. That's awesome news all by itself, of course, but what's even more awesome is the fact that Ardern will become the first elected world leader in decades to give birth while serving in office. And oh, by the way, her recent pregnancy announcement was also totally badass.
Ardern's first child with her partner, Clarke Gayford, is due in June, and it sounds like Ardern is more than up to the task of leading a country and being a new mom at the same time. When Ardern told reporters the news, she said, according to The Hill:
I am not the first woman to multitask. I'm not the first woman to work and have a baby. I know these are special circumstances, but there are many women who will have done this well before I have.
Talk about a badass woman who acknowledges those who came before her and didn't receive the same benefits she will. Ardern is clearly well aware that motherhood is just one of many tasks that women all over the world take on every day — she's now just one of the more public figures to take on the responsibility of being a working mother.
Ardern was sworn in as the prime minister of New Zealand in October, when she promised to form an "active" government that would be "focused, empathetic, and strong," according to The Guardian. She is the third woman to lead the country, and the youngest prime minister there in 150 years.
Ardern also wrote a longer statement about her pregnancy news in a Facebook post, and her excitement clearly showed through. She wrote, according to her official Facebook page:
And we thought 2017 was a big year! Clarke and I are really excited that in June our team will expand from two to three, and that we'll be joining the many parents out there who wear two hats. I'll be Prime Minister AND a mum, and Clarke will be "first man of fishing" and stay at home dad. I think it's fair to say that this will be a wee one that a village will raise, but we couldn't be more excited. I know there will be lots of questions, and we'll answer all of them (I can assure you we have a plan all ready to go!) But for now, bring on 2018.
For the most part, people had nothing but well wishes for the prime minister and her partner. The Green party leader in New Zealand, James Shaw, congratulated Ardern and said, according to The Guardian:
That a woman can be the prime minister of New Zealand and choose to have a family while in office says a lot about the kind of country we are and that we can be – modern, progressive, inclusive, and equal.
For that reason I know this announcement will be significant for many women, in particular, and that all New Zealanders will share in the prime minister's joy today.
But some of the comments on Ardern's Facebook post were a little less congratulatory, to say the least. The remarks included things like, "I'm not really comfortable with our new Prime Minister pregnant already just months into the job," and "Congrats but please don't let your baby do the talking and thinking in decisions." Because sexism is still alive and well, even in the most progressive of countries.
In general, however, most people had only positive things to say to Ardern and Gayford on their upcoming new addition.
Ardern will reportedly take six weeks of maternity leave when the baby is born, according to NBC News. Gayford will then be a stay-at-home dad once Ardern goes back to the important task of, you know, running a country and all.
Though Ardern is apparently not the first world leader to give birth while in office, she's the first in a long time, and the list still isn't very long. In 1990, Pakistan's prime minister at the time, Benazir Bhutto, gave birth to a daughter while serving, which may have been a first for an elected world leader, according to The Guardian.
But if Ardern isn't concerned about juggling first-time motherhood and running a country, no one else should be either. And the fact that Ardern had to publicly acknowledge that yes, she will continue working while pregnant, shows how far we still have to go when it comes to not seeing pregnancy as a hindrance in the workplace. Ardern's likely well aware of what she can handle. By all accounts, she's done an excellent job at her role so far, and is nowhere near ready to slow down.
Check out Romper's new video series, Romper's Doula Diaries:
Watch full episodes of Romper's Doula Diaries on Facebook Watch.