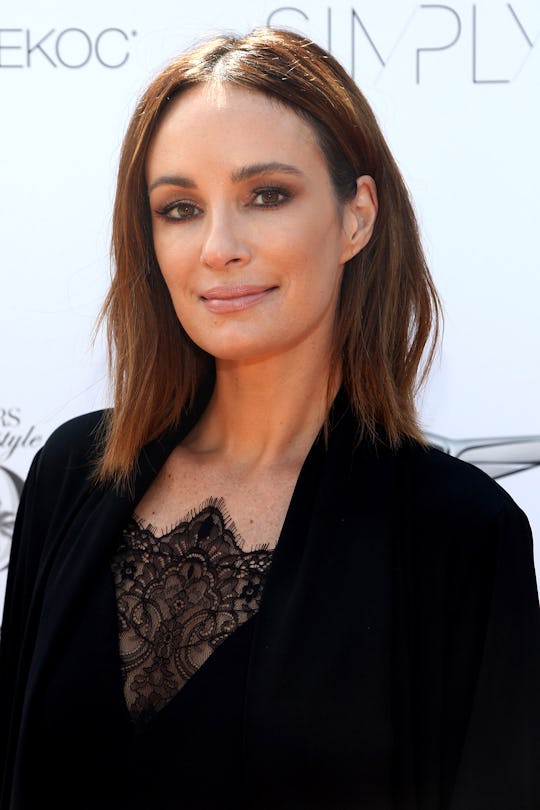 Tommaso Boddi/Getty Images Entertainment/Getty Images
This Letter Catt Sadler Got From A Young Girl About The Gender Pay Gap Will Make Your Day
As you're probably aware, there's been a lot more than "who are you wearing" discussions happening on the red carpet lately. With a feminist reckoning of sorts taking place in Hollywood, Catt Sadler's recent departure from E! News was indeed shocking, but the reason why sadly wasn't entirely surprising. Her honesty over a reported pay dispute with the network seems to have inspired a young girl to write a letter to Sadler about her reason to leave E! News and the harsh reality about the gender pay gap that trickles down into almost every industry.
Sadler recently left E! News after she discovered she was making much less than her co-host, Jason Kennedy, as she revealed on her personal blog, The Cattwalk, last month. Sadler explained:
I have two decades experience in broadcasting and started at the network the very same year as my close friend and colleague that I adore. I so lovingly refer to him as my "tv husband" and I mean it. But how can I operate with integrity and stay on at E if they're not willing to pay me the same as him?
An E! spokesperson told Romper in a statement regarding Sadler's claims:
E! compensates employees fairly and appropriately based on their roles, regardless of gender. We appreciate Catt Sadler's many contributions at E! News and wish her all the best following her decision to leave the network
Since her decision to leave E! News, Sadler has been outspoken about the alleged unfair pay she had received from the network and the gender pay gap in general. And on Wednesday, Sadler shared on her Instagram Story just how much her departure has resonated with her fans: a little girl named Olivia sent her a sweet letter — in the actual mail — and Sadler revealed how it's been keeping her going.
"I received a letter in the MAIL today from my friend Olivia that I had to share," Sadler put on her Instagram Stories, according to Us Weekly. And then she shared a photo of the letter from young Olivia, which reads:
There was a girl named Catt from Indiana. She went to Hollywood and was on TV. She was near a big screen when she was on TV and wore pretty dresses. Then she left because they weren't treating her the same as the boys.
And as if Olivia's letter wasn't cute enough, she ended with the age-old saying from Queen Bey, "Who runs the world? Girls!" So yes, you can go ahead and thank me for showing you this perfection and making your day. I know, you're welcome.
Truthfully, deciding to leave a stable, well-paying job couldn't have been easy for Sadler, and she said as much in her blog post and on social media as well. "Leaving E was one of the hardest decisions I've ever made," she wrote in a Dec. 20 Instagram post last yer, "but your messages and heartfelt comments are comforting and affirm for me that I made the right decision."
Unfortunately, Sadler's departure to leave the network has received some backlash. At a panel on Jan. 9, NBC Universal's president of Lifestyle Networks Frances Berwick, spoke about Sadler's decision to leave and claimed that the network has no gender pay gap, according to The Hollywood Reporter. An E! spokesperson provided Romper with the following statement:
Catt Sadler and Jason Kennedy had different roles and therefore different salaries. Catt was focused primarily on daytime. Jason Kennedy is on prime, evening news, plus red carpet. Our employees' salaries are based on their roles and their expertise, regardless of gender. So we wish Catt well, but I hope that sets the record straight on that.
Although some within the network have voiced their disagreement at Sadler's claims of a gender pay gap, she definitely has a lot of people on her side — other than little Olivia. Numerous stars at the Golden Globes took their time on the E! red carpet to call out the network for not paying Sadler the same as her male co-host. "I was so shocked to hear that E! doesn't believing in paying their female co-hosts the same as their male co-hosts," Debra Messing said, according to TIME. "I miss Catt Sadler. So we stand with her."
While Sadler might not work at E! News anymore, it's clear she still has plenty of support and she's still making an impact — from the A-listers on the red carpet to young girls named Olivia.
Check out Romper's new video series, Romper's Doula Diaries:
Watch full episodes of Romper's Doula Diaries on Facebook Watch.