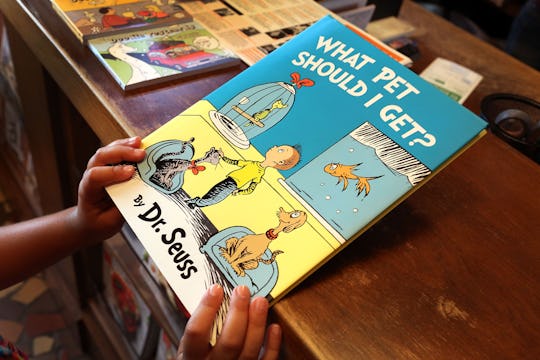 Joe Raedle/Getty Images News/Getty Images
This School Librarian Rejected Melania Trump's Donated Books For Some Very Valid Reasons
Schools all across the country celebrated my personal favorite holiday, National Read a Book Day, earlier this month, and apparently, so did the White House. To mark the occasion, the first lady gifted one high-achieving school in each state with a bundle of Dr. Seuss books. But, despite the move appearing noncontroversial, even apolitical — especially by President Donald Trump-adjusted standards — not all the recipients were impressed. In fact, one Massachusetts librarian wouldn't accept Melania Trump's donated books. But why, you ask, would a school librarian reject children's books? Well, Liz Phipps Soeiro wrote a somewhat scathing open letter to the first lady to explain exactly that.
Published Tuesday in The Horn Book's reading blog, the letter starts out benignly enough, with Soeiro thanking the first lady for the 10 titles as well as for recognizing the school, Cambridgeport Elementary School as "something special." Then, the plot thickens, characters develop, and the letter veers toward a not-exactly-happy ending that readers may not have been expecting. Soeiro, it turns out, has no intention of incorporating the books the White House sent into her library — and her reasoning has to do with the fact that Cambridgeport Elementary doesn't need help from the White House:
My students have access to a school library with over nine thousand volumes and a librarian with a graduate degree in library science. Multiple studies show that schools with professionally staffed libraries improve student performance.
It's not that Soeiro simply doesn't have space in the library for the new books. No, she decided to publicly shun them because she believes, as she wrote, that the first lady (and the Trump administration in general) would do better to allocate resources to help kids in school districts that are actually in need — not the ones "that have achieved high standards of excellence," as the White House press release on the giveaway specifies. And the public school system in Cambridge, Massachusetts, (with its high yearly per-pupil spending of $20,000 and "privilege and room for programming and pedagogy"), doesn't qualify, Soeiro wrote, further explaining:
Cities like Philadelphia, Chicago, and Detroit are suffering through expansion, privatization, and school "choice" with no interest in outcomes of children, their families, their teachers, and their schools. Are those kids any less deserving of books simply because of circumstances beyond their control? Why not go out of your way to gift books to underfunded and underprivileged communities that continue to be marginalized and maligned by policies put in place by Secretary of Education Betsy DeVos?
You kind of have to admit she has a point. What kind of message does it send that the White House, even in a mostly symbolic gesture, consistently turns its back on students in the most dire of circumstances only to celebrate "excellence" elsewhere?
But Soerio didn't stop there. She also criticized Melania Trump's choice to send Dr. Seuss books, calling the author a "cliché," and pointing out that the books' illustrations are "steeped in racist propaganda, caricatures, and harmful stereotypes." The librarian even suggested 10 other books for the first lady, including children's titles such as Separate Is Never Equal: Sylvia Mendez & Her Family's Fight for Desegregation by Duncan Tonatiuh and Mama's Nightingale: A Story of Immigration and Separation by Edwidge Danticat.
Although some Cambridgeport parents felt as though Soeiros did the right thing by rejecting the books, according to CBS Boston, the school itself distanced itself from her editorial. In a statement, the school said that Soeiros is "not authorized to accept or reject donated books on behalf of the school or school district" and reminded her of "the policy against public resources being used for political purposes," People magazine reported.
Still, hats off to Soeiros for standing by what she believes in and publicly making a powerful statement about today's political climate.
Watch Romper's new video series, Romper's Doula Diaries:
Check out the entire Romper's Doula Diaries series and other videos on Facebook and the Bustle app across Apple TV, Roku, and Amazon Fire TV.