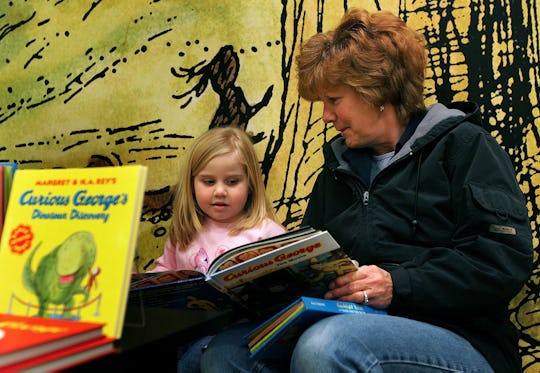 Tim Boyle/Getty Images News/Getty Images
This Line Fom Anna Dewdney's Obituary Is A Reminder To Parents About The Power Of Reading
On Saturday, children's author and illustrator Anna Dewdney died of brain cancer at her home in Vermont, at the age of 50. She left behind a husband and two children. Dewdney was the author of the popular Llama Lllama children's book series. Having authored 18 of her Llama Llama books since 2005, Dewdney has been a fixture of the American children's book landscape. But she leaves more than just an impressive legacy in children's literature. One specific line from Anna Dewdney's obituary reminds parents about the transformative power of reading.
Writing for Publisher's Weekly, Shannon Maughan remembers Dewdley through not only her works for children, but from a powerful op-ed for The Wall Street Journal in 2013, where Dewdney wrote:
When we read with a child, we are doing so much more than teaching him to read or instilling in her a love of language. We are doing something that I believe is just as powerful, and it is something that we are losing as a culture: by reading with a child, we are teaching that child to be human. When we open a book, and share our voice and imagination with a child, that child learns to see the world through someone else's eyes.
Dewdney observed, even three years ago, that reading to children is so much more than just encouraging literacy in kids: Reading shapes not only our culture and our world, but the world of our children. It's an important reminder for all parents in the era of tablets, e-Readers, and seemingly endless amounts of screen time for kids.
But regardless of the format, spending the time to read to your child is an important — and frankly, awesome — part of parenting. Reading to kids builds literacy, bonding, and character. Even science says that reading aloud to children is life-changing — literally. A 2015 study in Pediatrics revealed via magnetic resonance imaging of children that their brains actually showed positive changes as they listened to stories read aloud to them. Areas of the brain responsible for narrative comprehension and visual imagery lit up on the MRIs with far more activity as the children listened to stories.
But as Dewdney so keenly noted in her 2013 piece for The Wall Street Journal, reading to kids is about so much more than just literacy — when we read to our children, we remind them of our humanity. As Dewdney so eloquently said, parents pass on so much more than just vocabulary:
Sit down, put a child on your lap, and read a story. Have fun. Read in character and use funny voices. Ask questions about the plot and the characters. Talk about how the story makes you feel, and ask your child if she can relate to what the characters are experiencing. Laugh and cry. Be human, loving, and strong, and that will allow the children in your care to be human, loving, and strong.
Anna Dewdney will be greatly missed in the world of children's literature, but her legacy of compassion and humanity will live on for sure.