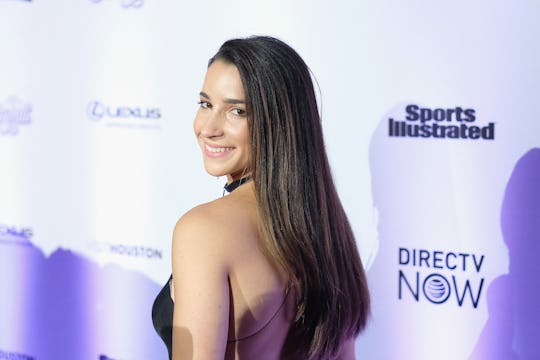 Nicholas Hunt/Getty Images Entertainment/Getty Images
This Line From Aly Raisman's Statement To Larry Nassar In Court Will Give You Goosebumps
The courage that women have shown over the past few months has been absolutely amazing. 2017 gave birth to the #MeToo movement, which finally gave all women — from celebrities, to your neighbor, to Olympic athletes — a chance to show the world their strength and have their voice heard. On Friday, Olympic gymnast, Aly Raisman, exemplified this after having to face her abuser, Dr. Larry Nassar, in court, along with hundreds of women who suffered at his hands. If you admired Raisman already from her incredible successes at the Olympics, then this line from Raisman's statement to Nassar in court will give you goosebumps, showing just how powerful Raisman is (in more ways than one).
140 victims suffered at the hands of Nassar, according to ABC News, who served as the doctor for the United States gymnastics team and Michigan State University. Coming forward with your own story of sexual assault or abuse is incredibly hard, but around 120 women will have the opportunity to tell their story at Nassar's sentencing, according to ABC News. On Friday, Raisman not only told her own story, but provided the other unspoken for victims with a powerful voice, reminding Nassar, the court, and the rest of the world, that these women, along with other survivors of sexual assault, are not going to be silenced any longer. While her whole letter to the judge and Nassar is worth listening to (although it is painful to hear), this one statement from her letter perfectly exemplifies that bravery.
Raisman, who won six Olympic medals during the two times she went to the Olympics, said in her letter, according to Buzzfeed:
Imagine feeling you have no power and no voice. Well, you know what, Larry, I have both power and voice and I am only now beginning to use them.
All these brave women have power, and we will use our voices to make sure you get what you deserve, a life of suffering spent replaying the words delivered by this powerful army of survivors.
Nassar, according to CNN, has plead guilty to "seven counts of criminal sexual conduct in Ingham County, Michigan, and admitted to sexually assaulting and abusing young girls under the guise of medical treatment." Along with Raisman, other Olympic gymnasts like Jordyn Wieber, McKayla Maroney, and Simone Biles, have all accused Nassar of assault — and according to CNN, it is expected that the victims will share their stories of Nassar's abuse in court, which could take days.
Listening to all of their statements hold so much importance, but Raisman's statement points out one thing that everyone can benefit from listening to — victims are now able to speak up and use their voice to help others. In 2017, people saw hundreds of people stand together and defiantly say "Me Too," sharing their own stories of sexual assault and abuse they had encountered over their lifetimes. And on red carpets this year, countless celebrities have joined together to let people know that "Time's Up" — and it is time to hold men accountable for their actions when it comes to sexual assault in the work place and not receiving equal treatment.
But at the same time, those people experienced push back from others asking why didn't these victims speak up back then and "why are they speaking up now?"
It takes some people decades to come forward with their stories, according to HuffPost, for so many reasons. Oftentimes factors like the shame the victim might face if they were to come out with their story, or being afraid of the reactions of the people around them, contribute to that. For these young girls training so hard for the Olympics and so determined to get to the Olympics, this pressure to "be good" and not speak up was probably immense. Raisman expressed her frustration with this during an appearance on 60 Minutes in November:
Why are we looking at why didn't the girls speak up? Why not look at what about the culture? What did USA gymnastics do, and Larry Nassar do, to manipulate these girls so much that they're afraid to speak up?
But, as Raisman said, now that she has been able to find that voice, she isn't going to let it be silenced. Now that she has spoken out about the abuse that she has faced, Raisman told ESPN that it is her goal to "make sure the current and future generations" of gymnasts are safe.
But this is only the beginning. Now that Raisman has her voice, this will only be the beginning of her activism, and that is so incredibly powerful to know. This won't be the last people will hear from Raisman and I can not wait to hear what comes next.