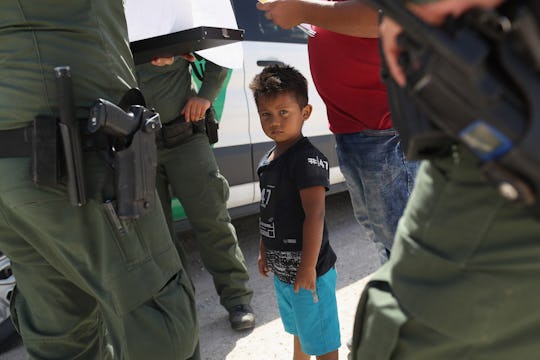 John Moore/Getty Images News/Getty Images
The List Of "Families Belong Together" Protests Continues To Grow
Throughout the week, Americans took to rallies and social media to protest the Trump administration's new immigration policy of separating families at the United States-Mexico border. And while some people think the family separations will end due to President Donald Trump's executive order on Wednesday, it's clear the fight is far from over. Immigration policy experts argue the executive order won't reunite families who have already been separated, and it's likely undocumented immigrants will be held indefinitely at family detention centers, according to NBC News. In response to the ongoing crisis, "Families Belong Together" marches will take place across the U.S. on June 30 as planned. People who plan to attend the marches will be pleased to learn the list of "Families Belong Together" protests continues to grow — a sign that Americans want to end this humanitarian crisis.
On Monday night, advocacy groups (MoveOn, the American Civil Liberties, and the National Domestic Workers Alliance) came together to organize nationwide Families Belong Together protests. The protests were created in a response to the upsetting rash of family separations at the United States-Mexico border, a result of Attorney General Jeff Sessions' zero-tolerance immigration policy, according to Vox. The zero-tolerance policy intends to criminally prosecute anyone attempting to illegally cross the border, including families seeking asylum. It's important to note, however, that seeking asylum is not a criminal act, and the ACLU argues the separation of immigrant families is unconstitutional.
Following immense public pressure, Trump signed an executive order on Wednesday stopping family separations at the border. Due to the order, some people wondered if the Families Belong Together protests would go on as scheduled. Well, it looks like the the answer is a resounding yes.
The update on MoveOn's official website reads:
The executive order that Donald Trump signed today is not a solution to the crisis created by his administration; it keeps kids imprisoned indefinitely, and doesn't reunite thousands of separated families. But it does show the administration is reacting to public pressure, so we will continue to increase our pressure for justice at hundreds of events on Saturday, June 30, to say that families belong together—and free.
What's especially inspiring about the nationwide protest is that the list of marches continues to grow. As of Thursday, the list of protests includes the following states and cities, according to MoveOn:
AK: Anchorage, Sitka
AL: Andalusia, Auburn, Birmingham, Florence, Huntsville, Montgomery
AR: Fayetteville, Fort Smith, Hot Springs, Jonesboro
AZ: Bisbee, Kingman, Nogales, Payson, Phoenix, Prescott, Tucson
CA: Angels Camp, Bakersfield, Berkeley, Bishop, Concord, Dublin, Encinitas, Eureka, Fort Bragg, Fremont, Fresno, Healdsburg, Idyllwild, Irvine, Laguna Beach, Lakeport, Lancaster, Livermore, Long Beach, Los Angeles, Modesto, Monterey, Moreno Valley, Morgan Hill, Mountain View, Napa, Oakland, Ojai, Oxnard, Palm Springs, Pasadena, Petaluma, Piedmont, Pittsburg, Pleasanton, Redding, Richmond, Riverside, SOLVANG, Sacramento, San Bernardino, San Diego, San Francisco, San Jose, San Leandro, San Luis Obispo, Santa Barbara, Santa Cruz, Santa Rosa, Sonoma, Stevenson Ranch, Truckee, Vacaville, Ventura, Westlake Village, Yucca Valley
CO: Alamosa, Boulder, Colorado Springs, Denver, Paonia, Pueblo, Salida
CT: Deep River, Fairfield, Greenwich, Hartford, Litchfield, Middletown, New London, Stamford
DC: Washington
FL: Clermont, Crawfordville, Daytona Beach, Deland, Fort Myers, Gainesville, Hollywood, Homestead, Jacksonville, Jensen Beach, Miami, Naples, New Port Richey, FL, Orlando, Panama City, Pensacola, Sarasota, Sebastian, Sebring, Tallahassee, Tampa, West Palm Beach
GA: Atlanta, Lawrenceville, Savannah, Valdosta
HI: Honolulu, Kahului
IA: Cedar Rapids, Des Moines, Iowa City, Marshalltown
ID: Boise, Coeur D Alene, Idaho Falls, Lewiston, McCall, Meridian
IL: Barrington, Chicago, Downers Grove, Elgin, Frankfort, Peoria, Rockford, Saint Charles, Springfield
IN: Evansville, Fort Wayne, Goshen, Indianapolis, South Bend, Terre Haute
KS: Lawrence, Topeka, Wichita
KY: Bowling Green, Lexington, Louisville
LA: Covington, Lake Charles, New Orleans
MA: Barnstable, Belchertown, Easthampton, Framingham, Greenfield, Haverhill, Lunenburg, Mansfield, Natick, New Bedford, North Dartmouth, North Truro, Northampton, Northborough, Peabody, Pittsfield, Provincetown, Waltham, Wellfleet, Worcester
MD: Cumberland
ME: Augusta, Bangor, Bar Harbor, Farmington, Machias, Portland, Prospect Harbor
MI: Adrian, Ann Arbor, Battle Creek, Big Rapids, Detroit, Flint, Grand Rapids, Holland, Houghton, Iron Mountain, Jackson, Kalamazoo, Lansing, Manistee, Petoskey, Pontiac, Port Huron, Saginaw, Sault Ste Marie, Traverse City
MN: Albert Lea, Grand Rapids, Minneapolis, Rochester
MO: Cape Girardeau, Columbia, Kansas City, Saint Louis, Troy, West Plains
MS: Hernando
MT: Billings, Great Falls, Livingston, Missoula
NC: Asheville, Charlotte, Greensboro, Hendersonville, Newton, Ocracoke, Raleigh, Salisbury, Southport, Winston Salem
ND: Grand Forks
NE: Chadron, Lincoln, Mc Cook, Omaha
NH: Hanover, Keene, Littleton, Manchester, Nashua, North Conway, Portsmouth, Wilton
NJ: Asbury Park, Bedminster, Clifton, Edison, Glen Ridge, New Brunswick, Newark, Red Bank, Toms River
NM: Albuquerque, Truth or Consequences
NV: Las Vegas, Reno
NY: Albany, Beacon, Binghamton, Bronx, Buffalo, Canton, Cooperstown, East Quogue, Geneva, Glens Falls, Greenport, Huntington, Ithaca, Malone, New City, New York, Oswego, Plattsburgh, Potsdam, Rhinebeck, Rochester, Rouses Point, Saranac Lake, Saratoga Springs, Westbury, White Plains, Woodstock
OH: Cincinnati, Cleveland, Columbus, Dayton, Norwalk, Oxford, Toledo, Youngstown
OK: Oklahoma City, Tahlequah, Tulsa
OR: Albany, Astoria, Bend, Coos Bay, Eugene, Madras, Medford, Portland, Redmond, Roseburg, The Dalles
PA: Beaver, Bethlehem, Bridgeport, Doylestown, Harrisburg, Philadelphia, Pittsburgh, Scranton, State College, West Chester, Wilkes Barre
SC: Charleston, Columbia, Darlington, Myrtle Beach
SD: Sioux Falls
TN: Buchanan, Chattanooga, Cookeville, Greeneville, Jackson, Knoxville, Memphis, Nashville
TX: Abilene, Alpine, Austin, Brenham, Brownsville, Corpus Christi, Dallas, Denton, Edinburg, El Paso, Fort Worth, Galveston, Granbury, Houston, Kerrville, Liberty, Longview, Lubbock, Lufkin, McAllen, McKinney, San Antonio, Sherman
UT: Logan, Salt Lake City
VA: Alexandria, Bristol, Charlottesville, Harrisonburg, Newport News, Norfolk, Richmond, Roanoke, Staunton, Virginia Beach
VT: Brattleboro, Manchester Center
WA: Anacortes, Bellingham, Bonney Lake, Bothell, Bremerton, Coupeville, Ellensburg, Everett, Friday Harbor, Longview, Mount Vernon, Olympia, Port Angeles, Pullman, Seattle, Tacoma, Vancouver, Walla Walla, Yakima
WI: Appleton, Ashland, Eau Claire, Green Bay, La Crosse, Madison, Milwaukee, Onalaska, Oshkosh, Racine, Stevens Point
WV: Parkersburg
WY: Gillette, Pinedale
It's also important to note that Washington, D.C., is the main site of the protests. If you're interested in going to the D.C. event, it will take place in Lafayette Square, across from the White House, according to HuffPost. As of Thursday, 13,000 people have signed up to attend the event, according to Facebook.
Additionally, it's interesting to see the long list of participating cities in Texas. I imagine those rallies will be especially powerful, as that's where many families are being held in immigration detention centers. I'm also curious to see which protest Texas House Rep. Beto O'Rourke will attend, because he's very passionate about this issue. Beto tweeted on Wednesday, according to Twitter:
We marched, called, stood up and spoke out because we believed America to be a place that doesn't take kids from their moms and dads. But we also believe America to be a place that doesn't indefinitely detain families & children in camps. If we don't continue to act, it will be.
Well-said.
On that note, if you're interested in attending a protest, visit MoveOn's website for an updated list of locations. It's clear the list of rallies on June 30 is continuing to grow, and that gives people a lot of hope.