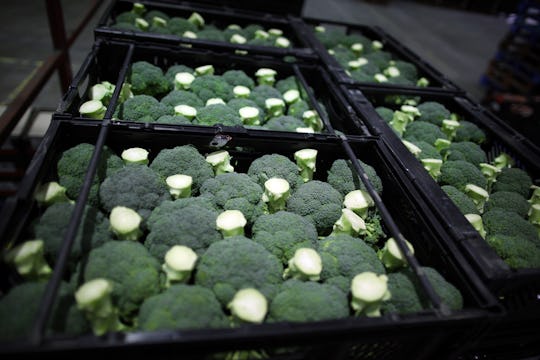 Peter Macdiarmid/Getty Images News/Getty Images
This Listeria Products List Will Help You Find Out If You Have Affected Foods
A series of voluntary frozen-food recalls has shoppers across the country concerned that their favorite brands might be among those cited for possible listeria contamination. But if it seems difficult to keep track of the multiple recall notices that have cropped up recently, there's good reason. Since the first recall of Costco veggies was announced in late April, the government's list of products possibly tainted with listeria has grown to include nearly 30 announcements affecting major retailers such as Costco, Whole Foods, Giant, Trader Joe's, Kroger's, and Publix supermarkets, according to the Food and Drug Administration website.
So far, eight people have been hospitalized with listeria and several more have reported becoming ill since the first reports of possible contamination erupted last month, according to CBS News.
According to the Centers for Disease Control, the initial recall by CRF Frozen Foods included just 11 brands sold to Costco and other retailers. The food manufacturer has since expanded its list of listeria recalls to include 358 products spanning 42 different food brands. At the same time, separate announcements by ConAgra, The PictSweet Company, Ajinomoto Windsor, and others mean that households in all 50 states and parts of Canada have been affected — and products ranging from nut mixes to vegetable medleys are at risk of causing serious illness to consumers.
The investigation into this latest wave of massive listeria outbreaks is outgoing and complex, but the CDC's advice to shoppers is straightforward: do not eat any of the food products involved in the recall. But finding out whether the contents in a family's freezer should cause concern isn't so simple. To help, here are some of the stores and brands involved in the nationwide listeria recall.
Costco (not related to the CRF Recall)
Watts Brothers Farms Organic Mixed Vegetables
Giant Food Stores/Martin's Food Market
Market District (bulk products w/sunflower seeds)
Nature's Promise Cranberry Trail Mix
Woodstock Walnut Halves & Pieces
Harris Teeter
Harris Teeter Frozen Organic Corn
Harris Teeter Frozen Organic Mixed Vegetables
Kroger
Kroger Cranberry Delight Trail Mix
Kroger Salad Toppers Sunflower Kernels
Simple Truth Organic Mixed Vegetables
Meijer
Meijer Peanut Butter Dark Chocolate Protein Bars
Meijer Peanut Almond Dark Chocolate Protein Bars
Meijer Sweet and Salty Almond Bars
Meijer Peanut Chocolate chunk Pretzel Bars
Meijer White Chocolate Chip Pretzel Bars
Publix
SpartanNash
Spartan Peanut Almond Dark Chocolate Protein Bars
Spartan Sweet and Salty Almond Bars
Trader Joe's
Trader Joe's Chicken Fried Rice
Trader Joe's Organic Super Sweet Cut Corn
Watts Brothers Farms Organic Mixed Vegetables
WalMart
Great Value Peanut Butter Dark Chocolate Protein Bars
Great Value Peanut Almond Dark Chocolate Protein Bars
Great Value Sweet & Salty Almond Bars
Great Value Trail Mix Fruit and Nut Bars
Whole Foods Market
This is not an exhaustive list of the brands at every store, as many of the recalled brands are sold by multiple retailers and several food manufacturers did not offer details of where some recalled brands were sold, according to the FDA database. For a complete list of brands, customers should type "listeria" into the FDA's searchable database of recalls and safety alerts available at FDA.gov.