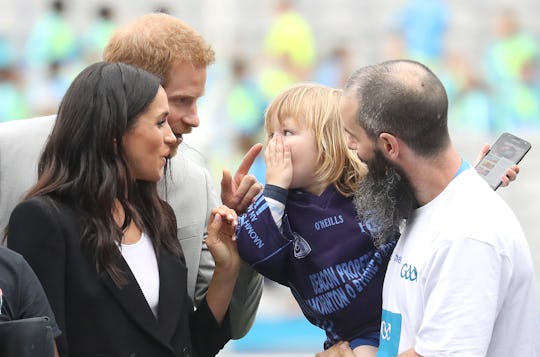 Chris Jackson/Getty Images Entertainment/Getty Images
This Little Boy Played With Meghan Markle's Hair & Prince Harry's Reaction Was Priceless
Since getting married this pas May, Meghan Markle and Prince Harry took a bit of a break from the public eye — until now. The couple has spent the past few days in Ireland, where the Duchess of Sussex let her hair down from its usual, sleek (sometimes messy) bun. While touring Croke Park, a stadium in Dublin, one little boy couldn't resist playing with Meghan Markle's hair, so Prince Harry stepped in and gave the curious tot a playful talking to.
Prince Harry and Markle visited Croke Park to see some of the country's traditional sports, according to People. Croke Park serves as both the principal stadium and headquarters of the Gaelic Athletic Association (GAA). During their tour of the stadium, a little boy couldn't resist reaching out to try playing with Markle's hair and she took it all in stride.
At one point, as Us Weekly reported, Markle laughed and even held the little boy's hand when he touched her face. Prince Harry joined in by playfully scolding the toddler with a gentle finger wag. It's clear that, despite the joking scold, neither Prince Harry nor Meghan Markle were particularly put off by the little boy playing with her hair. After all, kids will be kids.
Later on during the tour, Prince Harry even let another boy tug on his beard. Prince Harry playfully grimaced and told the boy, according to People, "You might have a beard soon — you never know!"
For anyone who has kept up with Prince Harry and Markle in the past, their grace with the two boys in this situation shouldn't come as a surprise. They are, after all, aunt and uncle to Prince George, Princess Charlotte, and Prince Louis. And it's pretty clear that Prince Harry is more of the fun loving uncle than the stern type.
Once, when meeting the Obamas, Prince George casually called out his uncle for being more well behaved then usual. According to Now to Love, Michelle Obama recalled Prince George saying, "Uncle Harry, why are you so quiet? Why are you so quiet?"
Prince Harry spoke up to defend himself, according to Now to Love, saying that he's normally playing with Prince George, but it was clear the Obamas weren't offended by the remarks. "I have to say the most precious thing, if you haven't already fallen in love with him, is to see him with his nephew," Now To Love reported Michelle Obama as saying at the time.
During their wedding, Prince Harry and Markle made sure to to take a portrait with all the kids involved in the wedding party. Wrangling 10 kids together for one photo can be a challenge for the most seasoned parents, but Markle's friend and make-up artist Daniel Martin told People that when the time came "it was really easy and harmonious and joyful, and Harry was playing with the kids".
In the past, the couple has spoken about their desire to have their own kids one day. For example, Prince Harry once said during a BBC interview after the couple announced their engagement, "You know, one step at a time... Hopefully we'll start a family in the near future." Additionally, when meeting a couple who makes baby products, Markle reportedly quipped, "I'm sure at some point we'll need the whole lot."
As for how big a family the couple wants, a brief exchange in Dublin made it clear that the couple does have a limit. While meeting with fans, People reported that a woman asked Prince Harry, "My husband also has red hair and he gave me five children — when are you and Meghan going to get going?" In response, according to People, Prince Harry laughingly said, "Five children? — too many."
Of course, no one knows when the couple plans on having kids, but their trip to Dublin and regular interactions with other kids of the royal family have proven that when the time comes, they'll be great parents.