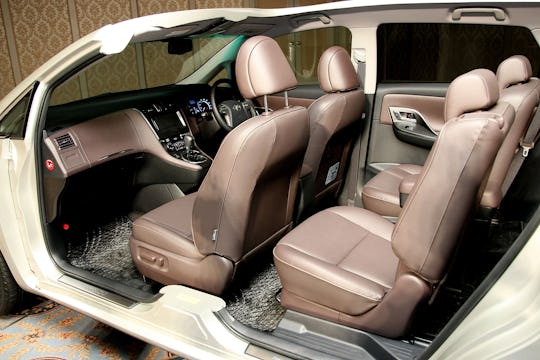 Koichi Kamoshida/Getty Images News/Getty Images
This Little Boy Survived Being Internally Decapitated, But His Family Still Needs Help
State Highway 51 is a two-lane road that crosses Idaho, and recently it was black and slick from a sudden hailstorm. The weather caused Brandy Gonzalez's to skid across the road into oncoming traffic and collide with another vehicle, according to Cosmopolitan. Her 4-year-old son, Killian Gonzalez, was in the car at the time, and the little boy survived being internally decapitated due in no small part to the help of a good samaritan.
Killian and his mother were driving him back to their home state of Nevada after his birthday party. He was in a carseat in the back of the vehicle when it crashed into an oncoming car at 3:14 p.m. in Owyhee County, according to the New York Times. The force of impact pinned Brandy to her seat and she suffered fractures in her arms and legs. Killian was "clinically decapitated," meaning his skull was separated from his spine. The local television station, KBOI, reported that he also had a ruptured spleen, broken ribs, and broken arms.
According to Cosmopolitan, Gonzalez said, "I was like: I have to get my baby. I looked back and he is just hunched over. He is not crying; he is not awake. I kept talking to him and trying to get him to wake up." She tried again and again to move and turn to him. Finally, she heard him say, "Momma."
Leah and Joel Woodward happened to drive by the accident and heard Killian's cries of pain. Leah told the New York Times, "As a mom, that just goes right to your heart. My immediate instinct was: 'You have to help that little guy.'" The couple pulled over, and Leah held Killian's head steady for half an hour waiting for an ambulance to arrive. It probably saved his life. KBOI reported that the other driver suffered no major injuries.
Because of Leah and Joel's actions, as well as the work of the medics, Killian is expected to recover fully from his extensive injuries. He was discharged from the hospital this past weekend. His family set up a GoFundMe page to help with the cost of his high medical expenses. They also use the venue to post updates about his recovery. On June 7, his update was:
[...] he is doing amazing!!! He is still very sore and we have a long way to go but he has only needed Advil/Tylenol! So pain wise he is great. He is in great spirits. Today he told us he was going to use his feet to walk down the stairs. He is so motivated to do things it's amazing! I'll keep you guys posted as we learn / he does more!!!
It truly is an unbelievable story that begins so tragically, but ends happily. Hopefully Killian and Brandy continue to have quick, successful recoveries.