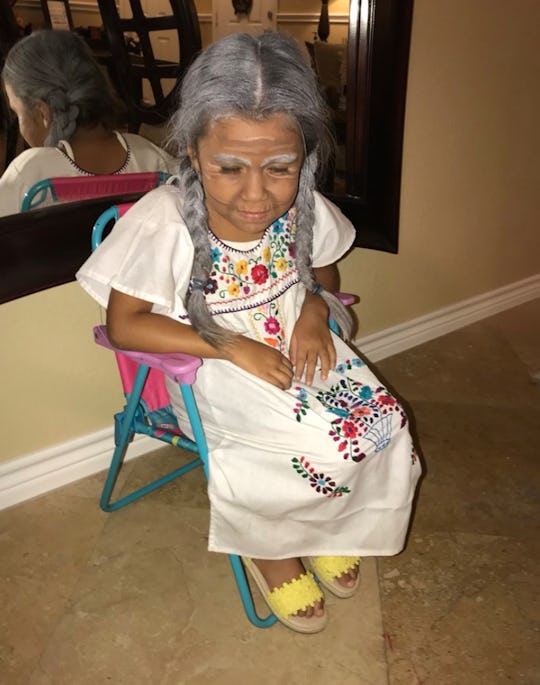 Courtesy Photo
This Little Girl Dressed Like Mama Coco From "Coco" For Fun & Looked Amazing
The first day of fall is officially here on Saturday, which means that Halloween will be here before parents know it. This year, there are so many fun costume ideas for both kids and parents alike. But maybe people should take a cue from this little girl who dressed like Mama Coco for fun — because this is one genius and simple costume idea for Halloween.
Last year, people fell in love with the animated Pixar film, Coco, which taught little kids (and their parents) about the holiday, Day of the Dead, and the traditions that come with it, according to Common Sense Media. It was super easy for little kids to become obsessed with the film — due in part to the amazing songs featured throughout the movie.
And now that the film is on Netflix, it continues to win over audiences who might not have caught it in theaters. Because the film still so prevalent, it would make for an excellent Halloween costume — and this little girl's mom has the right idea.
Earlier this week, Twitter user, n_castilleja, or Alejandro, tweeted that his mom decided to dress up his baby sister as Mama Coco, from Coco, "just for fun," according to Café Mom. But the little girl ended up "loving it" a little too much.
The results were absolutely perfect.
Mama Coco is inarguably one of the best characters in Coco. As Miguel's (the main character in the film) great-grandmother, she is the only one who listens to her great-grandson's hopes and dreams, according to The New Yorker. Her character is super adorable in the film, so it makes sense that it would translate well into a costume.
People on Twitter seemed to agree, since the photo has over 100,000 likes and over 30,000 retweets. Twitter users cannot get over how cute his sister looks dressed as an old woman — and how she looks so into character. And some serious credit needs to be given to his mom — because those wrinkles, eye brows, and gray hair is some incredible handiwork.
Seriously, Twitter users had the best reaction to the photos, for the best reason. This mom's work needs to be seen.
As it turns out, the mom — Noraelia Rodriguez — never expected the photos to go viral. She chose to dress her daughter, Khloé, up as Mama Coco after a "challenging day" and sent the photos to Alejandro, who then posted them on Twitter, according to TODAY. But now that the photos did go viral, she is glad that they did. Rodriguez told TODAY:
We're just happy she brought a lot of joy to everyone. We were not expecting it to go viral like this. It is just unreal.
Using temporary gray hairspray dye, a contour palette (to make those amazing wrinkles), and a dress from her daughter's closet, Rodriguez was able to transform her daughter in 12 minutes, according to TODAY. Her daughter loved it. "Khloe didn't want to take it off," Rodriguez said. "She wanted to sleep with it on."
Luckily for Khloe, she will get to relive that excitement again, because Rodriguez told TODAY that Khloe is going to be Mama Coco for Halloween this year, with her cousin going as Miguel. Sooooo adorable.
Parents who are looking to do the same as Rodriguez (and make their kid's day with the costume) don't have to spend a fortune on the perfect Mama Coco costume. All they need is a dress, the perfect gray wig (or some gray hairspray paint), and the commitment to acting like the older woman in the film. And for those parents who are a little challenged when it comes to makeup, there are even tutorials on how to transform into Mama Coco on YouTube.
Although there might be some pretty genius (and topical) costume ideas for this Halloween, dressing up like Mama Coco (and the rest of the Coco cast) is a pretty brilliant idea.