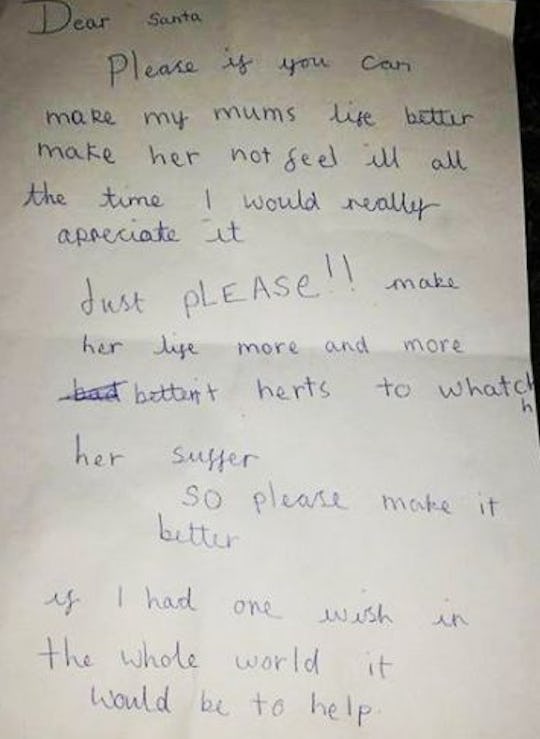 This Little Girl's Letter To Santa About Her Sick Mom Is So Heartbreaking — PHOTO
Confession: I've already started buying my son Christmas presents. I know, I know. It's horrible. My partner and I are so lucky and incredibly fortunate to be able to gift our child with things that he might want but definitely not even remotely need. (He's a year old, so whether or not he even wants the toys we buy him is up for serious debate.) It's so easy to get caught in the materialism of the holiday season, and I am just as guilty as anyone else. But then you read something like this: 11-year-old Bobbie-Mae Chalk wrote an early letter to Santa, asking him to make her mother, Debby Chalk, feel better. Debby has suffered from Crohn's Disease since 2006, a debilitating and painful ailment that inflames the digestive tract.
Hello, perspective.
While there is obviously nothing wrong with wanting to spoil your children — especially when you work hard for the ability to do so — it's important to be reminded of what children really need: you. Children just want a loving parent or parents, who are happy and healthy so they can learn what it means to be happy and healthy too.
Debby uploaded her daughter's sweet letter to the Crohn's and Collitis UK Facebook page, with this equally-touching caption:
My daughter gave me her letter to post to Santa last night and I thought I'd share it with you guys. I was a little bit surprised as I always feel like I put on a brave face and hide my illness well but clearly nothing gets past her. Love her <3
So if you're feeling stressed about the holiday season already, and making a list of all the toys and materialistic things you believe you absolutely need to buy your child, remember Bobbie-Mae. Because the truth is, while stuff is nice and toys are fun, health and happiness are the absolute most important.
Now excuse me while I go hug my kid.
Image: @parentsmagazine/Twitter