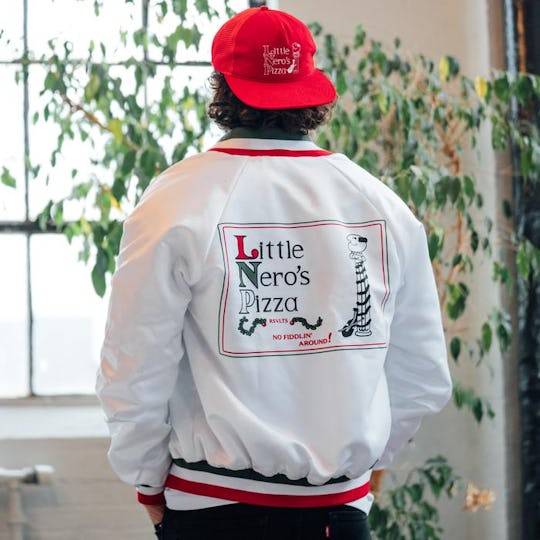 Stop. I Found Your New Christmas Look, & It's This Satin Little Nero's Pizza Jacket
"Keep the change, you filthy animal." Anytime I hear that line, I can see the blonde teenager who'd just knocked over a lawn ornament staring down at his 20-cent tip, bedecked in his white satin bomber jacket and red hat. The outfit is absolutely iconic for all millennials who grew up idolizing all things Kevin McCallister, and now, it's available for purchase. You need this Little Nero's Pizza Jacket for every holiday party you're invited to. Literally, every one.
Online retailer RSVLTS is selling this gem of a jacket for $75, and let's be honest, it's totally worth it. They're also selling a long sleeved Little Nero's Pizza tee shirt for $40 (No fiddlin' around!) and a Little Nero's hat for $30 designed to look just like the one from Home Alone. It's one red hat you'll be proud to wear. You, too, can be threatened by the audio of a gangster in Angels of Filthy Souls before you hightail it back to the safety of your mid-1980s model Chrysler.
Home Alone was the Christmas movie of my childhood. It's the first I can remember seeing in theaters, and I could not get over Kevin's luck. A whole week alone in the house with no parents, no older siblings acting like jerks — just a kid, his inappropriate movie collection, and, OK, a pretty harrowing encounter with the world's worst thieves. But he prevailed. To 5-year-old me, it seemed like a dream come true.
Being a middle child, I could not imagine a more gratifying holiday vacation than one spent with my parents realizing how badly they'd forgotten about me, then have their own vacation ruined by their own failings only to eventually be lauded for having completely saved the day — unlike the siblings, who were just busy being wrong in their wrongness. Vindication!
If you remember the film as fondly as I do, perhaps being another neglected middle child yourself, you need this Little Nero's pizza jacket to wear to every family gathering at the holidays. It's a bold move that subtly reminds everyone that if you weren't the loud, brash kid that you were growing up, you might've ended up battling a couple of numbskull robbers intent on the world's worst home invasion. You could have been just another victim of the Wet Bandits.
Plus, the loud jacket really announces your entrance into a party. It would win all of the ugly sweater competitions, regardless of the fact that it's a satin bomber jacket. Though I do suggest you get the tee as well, just to really swing for the fences.
Really, all these years later, I'm quite surprised that the McCallister family only managed to completely lose Kevin on two separate occasions. It seems like it's something that would have happened with alarming frequency, given the fact that their plane had already taken off for France when his mother (only his mother, mind you, no one else cared) realized he was missing. Life would likely have been a real challenge at places like theme parks, department stores, veterinary clinics, you know, wherever it is that you might forget that you have a child.
Wearing this jacket is a nod to all of the kids who desperately wanted to be left behind as their parents and family boarded a plane for Europe. It's for kids who wanted to sled down the stairs, raid their brother's stash of cash, and eat ice cream straight from the container. This jacket is the satin representation of the millennial ID, and I'm here for it with a large cheese pizza — just for me.