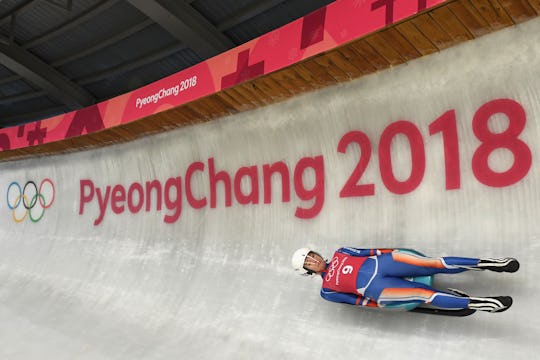 Quinn Rooney/Getty Images Sport/Getty Images
This Map Of PyeongChang Will Show You Every Venue At The Olympics
The 2018 PyeongChang Olympics are set to take off on Friday, and the world is preparing to cheer on their home teams as Olympians skate, ski, and slalom their way through the games. If you're anything like me, though, the Olympics may have crept up on you a bit this year — which means you've got a little bit of prep to do before things kick off. To get you situated, here's a map of PyeongChang and the Olympic venues you should know about.
The county of PyeongChang, South Korea was awarded the 2018 Winter Olympics more than seven years ago, when it beat out Annecy, France and Munich, Germany for the honor and headache of hosting the games. The county of 43,000, nestled in the Taebaek Mountains, has an average elevation of about 700 meters (or 2,296 feet), giving it great conditions for snowy sports.
The Olympics will take place in two main clusters, with twelve sports venues, several cultural venues, and two Olympic Villages for athletes. The Olympic Plaza and Olympic Park will also host several cultural events. Scan through the map below to check out where everything is situated, along with descriptions of each venue beneath the map.
2018 PyeonChang Olympic Venues Map
PyeongChang Mountain Cluster
In the PyeongChang mountain cluster, you'll find the following venues:
PyeongChang Olympic Stadium: This massive stadium seats 35,000 and will host the opening and closing ceremonies. Get ready for a show.
PyeongChang Olympic Plaza: The Olympic Plaza will host cultural events and shows, including everything from concerts to shows to tech displays.
PyeongChang Olympic Village: This is where athletes from around the world will gather in their apartments, along with a decked-out media center for the press.
Alpensia Biathlon Center: Home to the biathlon events.
Alpensia Cross-Country Skiing Center: Keep your eye on cross-country skiing and Nordic combined (cross-country skiing and ski jumping) in this center.
Alpensia Ski Jumping Center: Here you'll find ski jumping, more Nordic combined, and big air snowboarding events.
Olympic Sliding Center: This center will host luge events, as well as bobsleigh and skeleton events.
Phoenix Snow Park: Get ready for some awesome snowboarding here.
Jeongseon Alpine Centre: Downhill alpine skiing, super giant slalom, and combined sports will take place here.
Yongpyong Alpine Centre: You'll find slalom and giant slalom competitions on here.
Gangneung Coastal Cluster
There's less happening in this cluster, but it's still going to be quite the show.
Gangneung Olympic Park: The Olympic Park will host all ice events, as well as a partner showcasing pavilion and shopping opportunities.
Gangneung Olympic Village: The only difference between this Olympic Village and the one in the PyeongChang Mountain Cluster, according to USA Today? Gangneung's Olympic Village is also home to a McDonald's.
Gangneung Hockey Center: This center will be home to men's ice hockey.
Gangneung Oval: Speed skating will take place here.
Gangneung Ice Arena: Home to short track speed skating and my personal favorite, figure skating.
Gangneung Curling Centre: Curling will take place here.
Kwandong Hockey Centre Open: Kwandong will also host ice hockey.
If you're keen on seeing a simplified map view, ATPI has a fantastic PDF of where each sports event takes place. You can also dive into more specifics of each venue via the 2018 PyeongChang Olympics website, which lines up each sport with its venue in a helpful spectator guide.
The Olympics kick off on Friday, and run all the way until Feb. 25. Before things get started, make sure you know where and when you'll be watching — whether it's streaming at home, heading to a friend's, or a bar — and then stock up on snacks for the fun.
Check out Romper's new video series, Romper's Doula Diaries:
Watch full episodes of Romper's Doula Diaries on Facebook Watch.