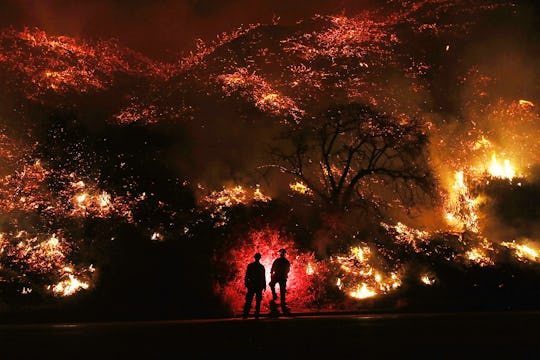 Mario Tama/Getty Images News/Getty Images
This Map Of The California Wildfires Shows Just How Dangerous They've Become
California Gov. Jerry Brown has declared states of emergency in Los Angeles and Ventura counties as relentless wildfires rage through, according to a tweet from Brown's press office. They're ripping across cliffs, roaring across acres of land and engulfing people's homes. And, now, a map of the California wildfires is circulating, depicting just how dangerous the situation is becoming.
The latest inferno, named the "Skirball Fire," started early Wednesday morning. Driven by 25-mph winds, the Skirball Fire has already spread across almost 500 acres, causing mandatory evacuations in the Bel Air neighborhood — and it's only 5 percent contained thus far, according to the Global Times.
Skirball Fire is only the latest to break out since Sunday. Ventura, California has become a site of massive evacuation, according to The Washington Post. The publication reported that "more than 50,000 people from 15,000 homes" have been evacuated by officials. The newspaper also said that the fire has already spread across and burned "90,000 acres," as of Wednesday.
Now, dangerous wind forecasts are expected to fan the flames in different directions and exacerbate conditions. As of Thursday morning, winds already topped 50 mph in the greater Los Angeles area, and they can be carrying embers that could spark new fires as far as 10 miles away, Fire Department Chief Ralph M. Terrazas said at a news conference Wednesday.
These Santa-Ana winds have pushed the fierce fires far beyond red, which means "high" on the California Department of Forestry and Fire Protection's color-coded alarm system; they've now reached purple, which means "extreme," according to a tweet from the department.
Terrazas also said at the conference that the fire risk is at the highest level he has ever seen in his career.
Residents across the region are growing evermore concerned, as more than 200,000 people have been forcibly replaced and 200 homes and buildings have been destroyed as a result of the wind-driven firestorm.
"We are in the beginning of a protracted wind event," Ken Pimlott, director of the California Department of Forestry and FireProtection (Cal Fire), told the Los Angeles Times. "There will be no ability to fight fire in these kinds of winds."
Pimlott warns of winds that could reach 80 mph. Coupled with parched vegetation, the region is particularly vulnerable to new fires.
Officials also told The Washington Post that the Thomas Fire, which is still the worst of them, has surrounded Ojai, leading to an evacuation of 8,000 residents. The Washington Post reported that the threat may increase.
This map shows just how dangerous the fires have become as of Wednesday morning:
"Our plan here is to try to stop this fire before it becomes something bigger," Los Angeles Mayor Eric Garcetti said at an earlier news briefing, according to People.
While the Thomas Fire has claimed the lives of more than two dozen horses at a stable and abolished at least 150 structures, there have fortunately been no reported fatalities or civilian injuries thus far, according to Reuters. That said, the Los Angeles Fire Department reports that three firefighters were injured and hospitalized in stable condition from the Skirball Fire. Per The Washington Post, thousands of emergency responders are working to keep residents safe.
All schools in the San Fernando Valley and 17 schools affected by the Skirball Fire are also closed Thursday Dec. 7 and Friday Dec. 8 in an effort to keep students and staff safe, according to the Los Angeles Unified School District. This includes all schools in Local District Northeast, all schools in Local District Northwest and 17 schools in Local District West. Students and staff at affected schools are told not to come to school for the remainder of the week.
"These are days that break your heart," Mayor Garcetti continued. "These are also days that show the resilience of our city."
Editor's note: After publication, we discovered this article did not meet our editorial standards. There were portions that did not correctly attribute another source. It has been updated to meet our standards.
Check out Romper's new video series, Romper's Doula Diaries:
Watch full episodes of Romper's Doula Diaries on Facebook Watch.