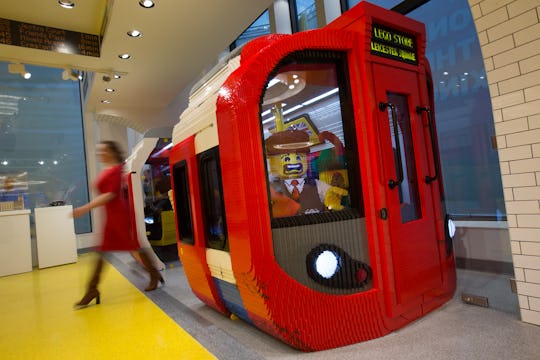 DANIEL LEAL-OLIVAS/AFP/Getty Images
This Map Of London Tube & Parson's Green Shows Where The Explosion Happened
Tragedy has struck the world once again, this time in the form of a London Tube explosion, which took place on Friday morning and left up to 22 people being treated at a hospital for burn injuries, according to BBC News. Right now, the incident is currently being investigated, but reports say that an "improvised explosive device" was detonated, causing the police to treat this event as a terrorist attack. Information is still coming in on a minute-by-minute basis, but this map of the London Tube and Parson's Green will help show where the explosion took place, so that you can get a better idea of the situation.
The device found at Parsons Green appears to be homemade, but as of now the specifics of who created the device and whether or not it was activated remotely or in person. There are also reports that the bomb didn't explode to its full capacity either, which is probably how (thankfully) no one ended up being killing during the attack. Regardless, though, it's still important to know where exactly this all took place, which is where these maps come into play. The first demonstrates where exactly in London the Parsons Green stop is.
The arrow in the second image, points to Central London, meanwhile the "x" signifies where the explosion was.
A witness told The Guardian that the bomb was located only a few feet away from where he was standing on the tube and described his account of the story. I saw the fireball coming towards me — yellow or orange. My face still feels warm. I wasn't hanging around to get a better look at it," he told reporters. He also described seeing "red wires" coming out of a grocery bag, where the device was presumably located.
Unsurprisingly, many have taken to Twitter to discuss the incident and extend messages of support for those injured and impacted by the incident. However, President Donald Trump had a, well, unique choice of words for what took place in London in a series of tweets that helped absolutely no one and put all the blame on Islam, reminding everyone about the plan he wants to implement that could potentially ban Muslims from the United States.
Is this the time for Trump's Islamophobia? No, but that certainly didn't stop him from speaking his mind anyway. He even went so far as to call the people responsible "loser terrorists." How... eloquent? And, of course, amid all of this rambling he completely forgot to send out any actual support or prayers for London. An oversight that I feel like should surprise no one at all.
Meanwhile, Mayor Sadiq Khan has issued an official statement on Facebook of his own: "Our city utterly condemns the hideous individuals who attempt to use terror to harm us and destroy our way of life. As London has proven again and again, we will never be intimidated or defeated by terrorism."
As The New York Times points out, this incident marks the fifth major terrorist attack to take place in Britain this year, following the Parliament incident back in March, the suicide bombing in Manchester in May, and van attacks around the London Bridge and outside of the London mosque, both of which took place in June. Thankfully, this one resulted in zero casualties, but it's still upsetting to see so much unnecessary violence in this world. My thoughts and prayers are with Britain during this trying time. Hopefully police are able to get to the bottom of who is responsible so taht they don't have the opportunity to strike again.