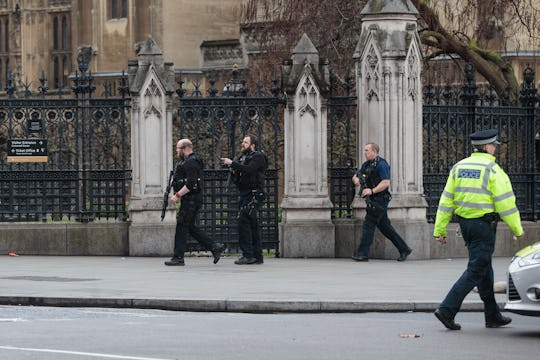 Jack Taylor/Getty Images News/Getty Images
Map Of Parliament & Westminster Connects 2 Attacks
Reports of a knife-wielding assailant and a car plowing into pedestrians at two separate London locations on Wednesday have left those unfamiliar with the city confused over whether they were two different attacks. But a map of the U.K. Parliament and Westminster Bridge show that the locations are actually right next to each other. According to Google Maps, walking from the Westminster Bridge to the House of Commons would take only a few minutes. The bridge actually ends right at the back of the complex.
Update: According to the Associated Press, British police late Wednesday evening raised the death toll in the Parliament attack to five. At least 40 people were injured.
Witnesses told The Independent that a car hit "around a dozen people" on the bridge before ramming into the gates outside the House of Commons, and an assailant then exited the car and stabbed a police officer on the grounds of Parliament before being shot. The BBC has received reports that several shots were fired before members of Parliament we instructed to stay in their offices as the building went on lockdown. Prime Minister Theresa May was seen being escorted from the premises following the incident, and is said to be unharmed. The Independent confirmed that at least one pedestrian has died. An officer was stabbed, and was described as "wounded but moving." It's unknown if the shot to the suspect was fatal.
Police confirmed that there had been a number of civilian and police casualties, but declined to give further details. Paramedics told the BBC that at least 10 people had been treated at the scene. A doctor from a local hospital said that one woman had died, and other victims had suffered "catastrophic" injuries. French Prime Minister Bernard Cazeneuve said that a group of French students were among the injured, according to the Guardian. A Port of London Authority spokesperson said a woman had been recovered from the water under the bridge; she's believed to have fallen into the River Thames during the incident.
Witnesses said that the car drove onto the sidewalk of the bridge before barreling into the Carriage Gates, the secured entrance to the grounds of Parliament. The suspect, who is believed to be a middle-aged Asian man, then reportedly exited the vehicle and proceeded to stab the officer with a knife before being shot. Police are currently treating the incident as an act of terrorism, but the motive is still unknown. Hours later, the House of Commons remains on lockdown as the police continue their investigation.