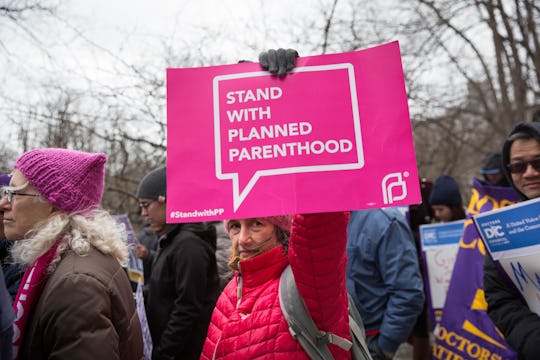 Kevin Hagen/Getty Images News/Getty Images
Here's What Happens If We Defund Planned Parenthood
The misconception that Planned Parenthood is little more than an abortion provider has long led many right-wing voters and politicians to argue that the organization shouldn't receive any government funds. It's not exactly surprising then, that the current GOP health care bill will see Planned Parenthood cut off from Medicaid funding for one year, according to The Washington Post, with supporters of the move arguing that other community health organizations — specifically clinics designated as federally qualified health centers or FQHCs — could fill the gap. That would be great if it were actually the case, but this map shows just how dire things could get if lawmakers defund Planned Parenthood, and it's an alarming image.
The primary concern? Planned Parenthood is a major health care provider, serving millions of Americans, particularly when it comes to contraceptive services. According to The Washington Post, data from The Guttmacher Institute shows that Planned Parenthood serves "one-third of all contraception clients among family-planning clinics nationwide," and in some states, Planned Parenthood clinics see up to six times as many patients for contraception services as FQHCs. Specifically, Planned Parenthood says it offers care to more than 2.4 million Americans at 650 Planned Parenthood affiliate health centers each year, approximately 80 percent of which receive services to prevent unintended pregnancy. That's a lot of people for FQHCs to absorb into their already existing patient loads.
Complicating matters further, according to The Washington Post, is that many FQHCs are already struggling to meet their current patient demands, even without the additional spillover that defunding Planned Parenthood would inevitably create. And even if they were able to take on the influx of new patients, the available services may not be comparable. According to Stanford Health Policy Veteran Affairs Health Services Research and Development Follow Dr. Meenadchi Chelvakumar, when it comes to contraceptive services, an estimated 91 percent of Planned Parenthood clinics are able to offer approximately 77 percent of reversible contraceptive methods to patients, while similar community health clinics often offer only 48 to 53 percent, and are "much more likely to provide onsite access and refills for contraceptive pills," than their FQHC counterparts.
Planned Parenthood also serves a crucial role in many communities as being one of the few accessible providers of contraception services. According to Chelvakumar, Planned Parenthood is actually the sole provider of contraception services for low-income women in nearly one-quarter of counties served by the organization, which is not only seriously concerning, but draws into question the often-cited GOP claim that community clinics will be an easily-accessible resource — if they literally don't exist, where are patients supposed to go? It's perhaps no surprise, then, that, according to Mother Jones, an Iowa law that came into effect this month that essentially defunded Planned Parenthood at the state level has meant that four clinics have had to close, potentially leaving an estimated 15,000 patients without a care provider.
Perhaps one of the most frustrating aspects of the debate about Planned Parenthood though is the fact that the organization provides much-needed health care services, but that is often overshadowed by the fact that it also happens to offer abortion services. The reality though is that the bulk of the care Planned Parenthood clinics provide actually includes important reproductive health care services that have nothing to do with abortion at all (think prenatal care, cancer screenings, STD tests, and access to contraception). What's more is that millions of Americans — especially those who are low-income or who have other barriers to health care access — rely on those services, and if the clinics are defunded, they will be at risk of being left without a provider.
That's especially concerning given that the implication that public funds somehow already currently fund abortions at Planned Parenthood clinics (or any other clinic, for that matter) is flat-out wrong: according to Quartz, health clinics have never been able to use federal funds for abortions since Title X was first enacted in 1976. And given the fact that Planned Parenthood is a major health care provider for many low-income Americans — Medicaid patients make up more than half of Planned Parenthood's client load, according to The Washington Post — it seems that the only thing the bill will actually accomplish will be making it harder for already-marginalized individuals to get the necessary (and sometimes life-saving) health care they need.
But there's another consequence involved with defunding Planned Parenthood that isn't always as obvious — and it's likely to be a costly one. When you take away access to contraceptive services (and particularly when you don't offer a sufficient replacement), then the number of actual births is likely to increase. And since Planned Parenthood serves so many Medicaid patients? Those births will likely end up costing the government more money than it would be saving by defunding the clinics in the first place. According to Business Insider, the nonpartisan Congressional Budget Office released a report earlier this year that found that defunding Planned Parenthood for a year could increase "direct spending for Medicaid by $21 million in 2017, and by $77 million over the 2017-2026 period."
In other words, defunding Planned Parenthood will likely make it harder — if not impossible — for millions of Americans to access health care, and it may end up costing the government money in the long run. Even though abortion services make up only a small fraction of what Planned Parenthood actually does (3 percent, according to Business Insider), and even though it is already illegal to use federal funds to pay for an abortion.
It's still to be seen whether the current bill will pass in the Senate — according to The Washington Post, a vote isn't expected until the end of the month, and a number of senators have already voiced their opposition. And defunding Planned Parenthood wouldn't exactly be popular among the majority of Americans either: according to Business Insider, two separate polls conducted earlier this year had 62 and 74 percent of voters opposed to the GOP's plan to defund the organization. But while the fate of the bill is still uncertain, one thing definitely seems clear: when it comes to ensuring access to health care for low-income Americans, defunding Planned Parenthood will almost certainly be a huge step in the wrong direction.