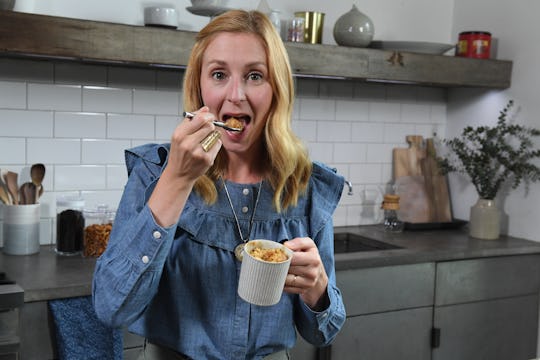 Courtesy of Folgers®
Your Kid's Gonna Love Tosi's Easy, Sweet, & *Fast* Microwave Mug Cake Recipe
Two undeniable facts about me: I have an out-of-control sweet tooth, and I'm incredibly impatient. Neither are particularly good qualities, but no amount of sugar-detoxing or deep breathing has helped. That said, mug cakes have become my go-to dessert because they're both deliciously sweet and fast. Incidentally, this is also a dessert selling point for moms with little ones. Christina Tosi's mug cake is the perfect thing to make with kids because it only takes 10 minutes. Well, technically it's perfect for kids and adults with abysmal patience and a massive chocolate craving.
When it comes to dessert, Christina Tosi is a guru. An award-winning pastry chef Tosi first founded the pastry program at David Chang's famous Momofuku restaurants before opening the first Milk Bar bakery. Ten years later, Milk Bar has locations in New York City, Los Angeles, Las Vegas, Toronto, and Washington D.C. and a reputation as "one of the most exciting bakeries in the country" according to Bon Appetit Magazine. Tosi has also written three cookbooks; her most recent, All About Cake, was released in October of this year.
Just recently, Tosi teamed up with Folgers Coffee to create a trio of holiday recipes: a tiramisu layer cake, a raspberry swirl bundt cake, and a pretzel mug cake. This last one gets a special shoutout because it's just so dang easy to make with kids — in her case, she makes them with her 4 young nieces. And in case you're wondering, Tosi absolutely endorses eating cake for breakfast (Perhaps that's why she elected to make them in a breakfast-appropriate mug?) "I have little ones who remind me what I was like at that age, which was always trying to con the adult into serving you cake for breakfast," Tosi tells Romper.
Tosi may have two James Beard awards under her belt, but this mug cake creation, the Coffeehouse Pretzel Mug Cake with Honey Drizzle, is doable for amateurs and expert chefs alike. "The microwave mug cake is the easiest thing. My nieces are always like, 'We want to help, we want to help!'" Tosi tells Romper. The recipe plays with the sweetness of the cake and honey with the saltiness of the pretzels, and it makes two mugs, so you can share it or double fist it yourself... whichever you prefer.
Ingredients for the cake:
42 g mini pretzels (1.5oz bag or 1 cup)
40 g unsalted butter, melted (2 ½ Tbsp)
35 g buttermilk (2 Tbsp)
25 g grape seed or other neutral oil (2 Tbsp)
1 large egg
80 g sugar (⅓ cup + 1 Tbsp)
10 g dark brown sugar (1 Tbsp + 1 teaspoon, tightly packed)
40 g cake flour (¼ cup + 1 Tbsp)
1 g baking powder (¼ teaspoon)
1.5 g kosher salt (¼ + ⅛ teaspoon)
Ingredients for the honey drizzle:
25g honey (1 Tbsp)
15g dark brown sugar (1 Tbsp)
5g unsalted butter (1 teaspoon)
Pinch kosher salt
Directions:
Find your two best 8-ounce mugs and set them aside.
Blitz the pretzels in a blender or food processor until they are a fine powder. Set aside. Whisk the butter, buttermilk, grapeseed oil and egg together in a bowl.
Whisk the sugar, dark brown sugar, cake flour, baking powder, salt and ground pretzels together in a separate bowl.
Pour the wet ingredients into the dry ones and stir to combine. If the batter looks lumpy, use a whisk to break up all the lumps.
Divide the batter between the mugs.
Microwave the mugs until the cakes rise and puff up and look like they are about to spill out over the mugs. Start with 1 minute, and if they look too loose, continue to microwave in 15 second increments until the sides and top have set, leaving hot gooey cake batter hidden inside (up to 2 ½ minutes).
Remove the mugs from the microwave, spoon the honey drizzle all over the top, and garnish each with more mini pretzels if you have them.
This will take every ounce of self-control you have but wait 1 minute before stirring it up and digging in with a spoon.
It may look like dessert, but pair it with a cup of coffee and it's technically a breakfast. (That's a scientific fact, I'm pretty sure.) Tosi take her coffee with just a bit of whole milk. "I don't add sugar, because I know I'm going to get that from the dessert," she says. And that might be enough sweetness, even for me!