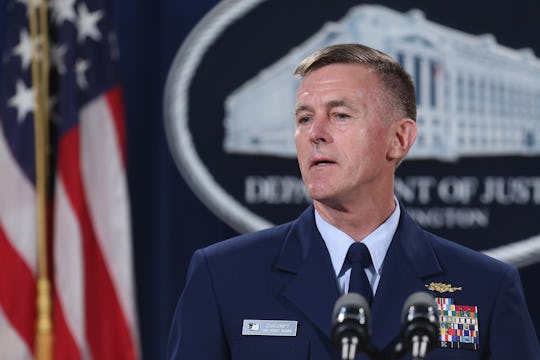 Chip Somodevilla/Getty Images News/Getty Images
This Military Head Just Took A Powerful Stand Against Trump's Transgender Ban
Many were shocked and heartbroken last week when President Donald Trump announced on Twitter that transgender people would no longer be allowed to serve in the military. But on Tuesday, one leader signaled that he would not participate in discrimination. The head of the Coast Guard took a stand against Trump's transgender ban, and gave service members a powerful sign of hope.
When Admiral Paul F. Zukunft spoke at the Center for Strategic and International Studies, he responded to the president's confusing, damaging Twitter order in staunchly defiant terms. Zukunft said that he would not "break faith" with the transgender Coast Guards he currently commanded. Furthermore, he revealed that he had already taken action to show transgender service members in the Coast Guard that they were not alone. Following the president's tweet, Zukunft had his office reach out to the 13 Coast Guard members who openly identified as transgender. He also personally contacted transitioning Coast Guard officer Lt. Taylor Miller to let her know that she had his support.
Zukunft said,
I reached out personally to Lt. Taylor Miller, who was featured on the cover of The Washington Post last week. Now if you read that story, Taylor's family has disowned her. Her family is the United States Coast Guard. And I told Taylor, 'I will not turn my back. We have made an investment in you, and you have made an investment in the Coast Guard, and I will not break faith.'
Zukunft continued, "That is the commitment to our people right now. Very small numbers, but all of them are doing meaningful Coast Guard work today."
Zukunft's support gives transgender members of the Coast Guard a small but vital measure of certainty in a very uncertain time. Trump made his pronouncement via tweet, but did not go through any official channels, defense officers told CNN, so as of now, no changes have been made to the military's policy on transgender service members. (The military's previous ban on transgender service members ended in 2016.) As those at the Pentagon wait to hear whether the president will follow up more formally, transgender troops who have committed to serving their country have no idea if their lives are about to be radically upended.
Zukunft is not the only one to speak out against the president's tweets. Reuters reports that, on Tuesday, 56 retired senior military officers voiced their opposition to the "disruptive" ban in an open letter.
But given that Zukunft is actively making decisions that affect service members, his words carry meaning in a whole other way. A serving commander standing up for his troops like this sends a powerful message. Let's hope the president will listen.