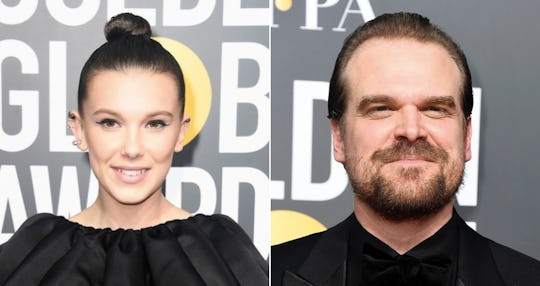 Frazer Harrison/Getty Images Entertainment/Getty Images / Frazer Harrison/Getty Images Entertainment/Getty Images
This Candid Pic Of Millie Bobby Brown & David Harbour At The Golden Globes Is Precious
Get ready to crumble into a million pieces, because this photo of Millie Bobby Brown and David Harbour captured at the 2018 Golden Globes is just too precious. The Stranger Things dynamic duo made their entrance at the awards show on Sunday evening, but it's not a red carpet photo that will make you melt. No, it's this candid shot of Eleven and Chief Hopper having a sweet moment before the event's festivities get started.
"Father/daughter moment," Debra Birnbaum, executive TV editor for Variety captioned the aww-worthy shot of the pair, who share the honest-to-God cutest bond in Stranger Things 2. The photo instantly went viral, garnering hundreds of fans commenting in all caps "OH MY GOD" or "AWWW" with copious amounts of heart-eyed emoji.
The 2018 Golden Globes are a big night for both Brown and Harbour. The Netflix hit itself is nominated for Best Television Series in a Drama, while Harbour is nominated for Best Performance by an Actor in a Supporting Role in a Series, Limited Series or Motion Picture Made for Television. So there are clearly a lot of emotions happening this evening. And whoever brilliantly and luckily captured this candidly cute moment — I believe thanks goes to Debra Birnbaum — every Stranger Things fan couldn't more thankful to get this precious behind-the-scenes peek.
This photo is perfect in and of itself, but what makes it even better? Millie Bobby Brown retweeted it with the sweetest caption. "Love this so much. Father & Daughter moments wishing my @DavidKHarbour all the best tonight!" she tweeted just before the show got underway.
And, understandably, fans totally flipped out.
People Just Couldn't Believe Their Eyes
Some Were Just So Happy To See Two Of TV's "Legends" Together On Such A Special Night
This year's Golden Globes isn't the first time the Stranger Things stars gave fans an iconic moment to remember. Of course, fans all remember the 2017 Emmy Awards when Brown lost the Outstanding Supporting Actress award to The Handmaid's Tale's Ann Dowd. But it was what happened during a commercial break that gave people all the feels. As Mashable reported at the time, Harbour "snuck across the aisle to console her" and gave her a big hug "clutching her hands, seeming to give her a pep talk following the defeat."
It's not just at awards shows, of course, where the two share sweet moments. After Harbour got the news that he was nominated for a Golden Globe for his role as Chief Hopper in Stranger Things, his co-star Eleven shared yet another sweet response. "Congrats @DavidKHarbour and @Stranger_Things for the #GoldenGlobes nominations! Happy days" she tweeted with the appropriate hashtag, #DadDance.
And to top it all off, Harbour promised to do the #DadDance if he won the Golden Globes. Needless to say, Twitter is waiting.
If you're not familiar with Chief Hopper's #DadDance, an awkward dance he did in an episode of Season 2 while he and Eleven start cleaning his grandfather's cabin, don't worry. There's a GIF of it.
This adorably charming moment, along with the sweet candid photo snapped at this year's Golden Globes, is just a taste of why this "father & daughter" duo continually take over the internet and make Twitter got into an emoji frenzy.
And fortunately, there will be plenty more moments to commemorate in the near future as Season 3 of Stranger Things is expected make its way to Netflix by the end of 2018, maybe by the start of 2019, according to NME. It might seem like forever to wait, but at least we have a #DadDance to look forward to.
Check out Romper's new video series, Romper's Doula Diaries:
Watch full episodes of Romper's Doula Diaries on Facebook Watch.