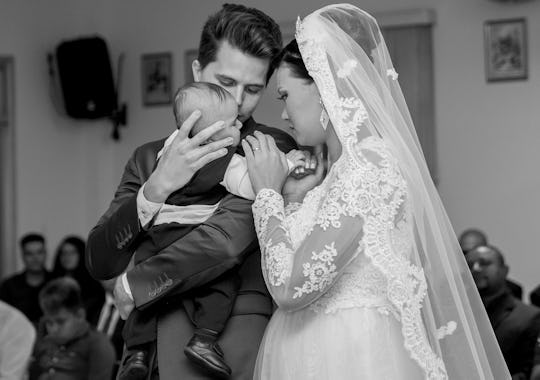 Photo courtesy of Danielly Katsue
Photos Of This Mom Breastfeeding During Her Wedding Are Breathtaking
Everyone knows that moms are the ultimate multitaskers, but this mom who breastfed during during her own wedding may be the ultimate ultimate multitasker. Plus, the resulting photos of the beautiful wedding moments of this family could not be more gorgeous. When Danielly Katsue married her husband Kale Rios in their native Brazil on July 7, her 3-month-old son Kauã started crying and wouldn't stop. So, she picked him up and did what came naturally: she started to nurse, right there during the ceremony in her white dress and veil.
"I think he was not even hungry, he wanted to participate in the wedding himself," Katsue says in a statement to Romper via Facebook, adding that the baby ate only for a short time before "calmly" lying on his dad's lap. But while Katsue had her son on her breast, wedding photographer Monica Carvalho captured some beautiful images of Katsue and Kauã. She then shared some of them on Instagram, hoping that doing so would help women feel comfortable breastfeeding their babies "'no matter the time, or place," as she told The Daily Mail.
Although neither woman knew what the reaction to Katsue's decision to breastfeed during her wedding would be, Katsue has been lauded for what she did.
"This is just perfect!! So pure, so much love❤️ just the way it is supposed to be!! Be proud!!! I am of you!!" one person commented on Carvalho's Instagram photo. Other reactions included sentiments like "I thought it was beautiful for this mother to do that," "This bride is perfection," and "What a beautiful picture!" The Daily Mail reported.
Katsue was happy to breastfeed during her wedding, but she didn't exactly plan to do so. The 24-year-old tells Romper that her sister-in-law initially tried to soothe the baby when he started to cry, and that another mom even tried breastfeeding him herself. Kauã "did not accept another breast," however, and he didn't get a bottle, so Katsue's face the choice between feeding him on the spot or letting him be hungry and unhappy until after the ceremony.
Before Katsue breastfed her baby in front of her guests, she thought they might think that what she was doing was strange. The fact is, though, that it's anything but.
"I'm not ashamed," Katsue tells Romper. "I did what every mother should do when the baby is hungry."
It was a win for everyone, and the beautiful photos are helping to normalize — even glamorize, in a positive way — breastfeeding just a little bit more.