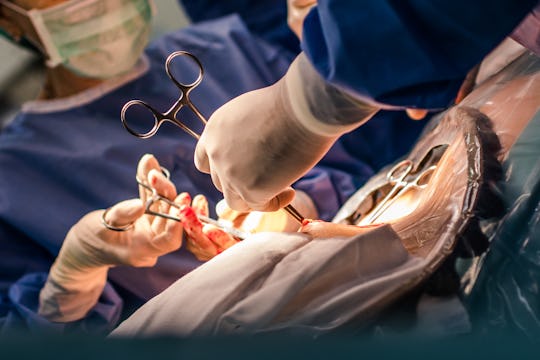 mr_nutto/Fotolia
This Mom Claims She Had An Emergency C-Section *Without* Anesthesia & OMG
For some parents, having an emergency C-section can be a terrifying experience. I know that was the case for me, and for two reasons: Not only was the C-section the first surgery I had ever undergone, but I had no idea what was wrong with my son. He wouldn't descend during labor, and the doctors didn't know why until they pulled him out of my stomach. I was scared, to be sure, but I couldn't imagine the terror felt by this mom who claimed she had an emergency C-section without anesthesia, according to NBC 7 Investigates. The details outlined in her malpractice and negligence lawsuit truly sound horrifying.
The shocking incident, which happened last November, began when Delphina Mota's blood pressure dropped during labor and her baby's heart rate couldn't be detected, NBC 7 Investigates reported. Her doctor at Tri-City Medical Center in Oceanside, California ordered an emergency C-section three minutes later, but the on-call anesthesiologist, Dr. David Seif, didn't respond when "paged multiple times," alleges Mota's complaint, according to NBC 7 Investigates.
After the anesthesiologist failed to respond several minutes after the page was sent, the surgical team allegedly decided to strap Mota down and began to operate. The lawsuit claims that they had cut Mota open without the use of a numbing agent, NBC 7 Investigates reported.
Describing the experience, Mota said, according to The Daily Mail:
Once I felt it, I was just screaming like, 'Stop. I can feel it. I can feel it. And after that, I'm pretty sure I passed out from the pain.
She continued, The Daily Mail reported:
Something like out of a horror movie. You can't imagine. I would rather have delivered vaginally, with no medicine, than being cut with a knife.
It is normal during a C-section to feel a slight tugging and some pressure, even though you are numb from your stomach down, according to The Bump. But in no way should you feel your body being cut into, and no way should any doctor perform that surgery without adequate anesthesia administered.
Aaron Byzak, chief government and external affairs officer at Tri-City Medical Center, wrote to Romper in an email:
Patient safety and comfort are always a priority at our medical center and we expect all the physicians with whom we partner to provide similar high quality care. Tri-City Healthcare District cannot comment specifically on pending litigation.
The lawsuit claims that Mota had "sustained great emotional disturbance and injury to her nervous, digestive, and reproductive systems and illness" from the emergency C-section. The group that employs Dr. Seif, the Anesthesia Service Medical Group, denied the allegations in the lawsuit, telling NBC 7 Investigates in an email statement:
The group, on behalf of Dr. Seif, is confident that anesthesia services would have been available, and were available. Additionally, the group and Dr. Seif are confident that the care provided by Dr. Seif was appropriate under the circumstances.
Mota's daughter, Cali Iheanachor, was born in good health, but Mota said that the experience is "probably going to stay with me for the rest of my life," according to The Daily Mail.
But what makes the experience described in the lawsuit even more shocking is how hospital personnel allegedly treated Paul Iheanachor, Mota's fiancé and the father of their child. Staff at Tri-City Medical Center reportedly held Iheanachor back when he tried to enter the operating room after he heard her scream, then go silent after passing out, according to NBC 7 Investigates.
Inheanachor told NBC 7 Investigates he remembers what he heard in haunting detail, continuing:
If somebody put a knife in your stomach and cut you open, and had their hands on your insides, and ripped your baby out, you know. I just tried to put myself in her shoes. Just tried to wrap my mind around how it would feel to basically be gutted like a fish.
My son's father sat next to me the majority of the time that I was having my C-section. Although he and I are no longer partners, I will always be grateful to him for being by my side, and for the hospital team who insisted he stay. So I couldn't imagine the heightened fear Mota may have felt without Inheanachor next to her.
What Mota had reportedly gone through is no doubt traumatic, and should never happen to any parent. Childbirth is hard, of course, but it shouldn't be a memory that causes you panic instead of joy.