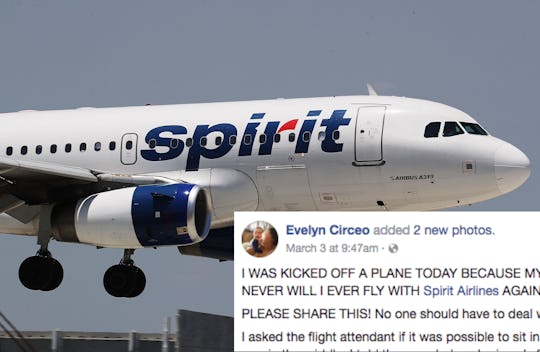 Joe Raedle/Getty Images News/Getty Images
This Mom Claims She Was Kicked Off A Flight Because Her Baby Spit Up, & Parents Are Furious
Over the past few years, there have been numerous scandals involving airlines and parents with young kids. In fact, it seems like every few weeks there's another headline drawing attention to the growing tension between airlines and parents. As for the latest controversy that has parents upset, look no further than this mom who claims she was booted from a Spirit Airlines flight because her baby spit up. Not only is the mom's story angering people on Twitter, but countless parents have declared that they'll never fly Spirit ever again because of it.
Spirit Airlines spokesman Derek Dombrowski tells Romper in a statement: "Our Crew is trained to identify Guests who may not be fit to fly. In this case, our records show the Guest requested an empty row because her child was sick and vomiting." Dombrowski wrote via email. "After it was brought to our Crew's attention, they made the tough decision to remove the Guest and her baby for the health and safety of all onboard. We are sorry for the inconvenience this caused. We are working directly with the Guest to resolve any concerns."
Evelyn Circeo, a mom to a 6-month-old son, was on her way home to Boston from Orlando on Friday when she said encountered a common problem many parents of infants face: baby spit-up. Yep, right before Circeo was about to board her flight home, her little one spit up his formula in the airport restroom, according to WKMG Click Orlando. Although it wasn't the ideal way to start a long flight, Circeo said thought she could make the situation better with an aisle seat. It's just easier to deal with a baby's spit-up when you have easy access to a bathroom, right? Plus, an aisle seat would be less disruptive to Circeo's fellow seatmates, making it a win-win for everyone involved.
"I asked one of the flight attendants, if possible, if I could have an aisle seat because he had spit up," Circeo, recalled asking a flight attendant while onboard the aircraft, according to the International Business Times. "It's just more convenient to be on the outside with a baby."
To Circeo's surprise, however, she claims the flight attendant asked her to leave the aircraft because her son was supposedly too sick to fly. Considering it was just a little spit-up, Circeo was dumbfounded by the flight attendant's reaction to her request.
"I said, 'What are you talking about?'" Circeo explained, according to Page Six. "...I said, 'What is wrong with my baby? Nothing's wrong with my baby. He spit up. He's a baby being a baby.'"
To make matters even more upsetting for Circeo, she claims her scheduled flight took off with her son's remaining bottles and diapers, according to the International Business Times:
I let them know I only had two bottles on me and three diapers, which I needed for the duration of the flight. I wasn't planning for anything more.
But what's especially confounding to Circeo is that Spirit offered her a seat on the next available flight. To Circeo, this offer didn't make sense, given the flight attendant's argument that her son was too ill to travel that same day.
As for how Spirit is compensating Circeo following this incident, the company refunded her flight and offered her two roundtrip plane tickets. Although some people might find this to be a suitable apology, most parents remain outraged.
Of course, it's not surprising that many parents are upset about Circeo's story. Spit-up is something that all parents have probably dealt with at some point or another, and it's a bit shocking to consider something so harmless could result in someone being kicked off a flight. To be fair to Spirit, however, it's possible the flight attendant wasn't aware of the difference between vomit and spit-up (yep, there are medical guides for this exact issue), and it's also worth pointing out that they didn't witness what happened in the restroom. Lastly, if Circeo's child was sick and a medical emergency occurred mid-flight, Spirit could potentially be held liable for the incident. It's possible Spirit Airlines was just being cautious in this case.
That all being said, what seems to be most important in this debate is that there needs to be better communication between parents and airline staff. From parents being as transparent as possible about their needs, to airline staff doing their best to be active listeners and problem solvers, a lot can be done to improve relations between airlines and parents. Hopefully, Circeo's story will act as a teaching moment for airlines that encounter similar situations.
Check out Romper's new video series, Bearing The Motherload, where disagreeing parents from different sides of an issue sit down with a mediator and talk about how to support (and not judge) each other's parenting perspectives. New episodes air Mondays on Facebook.