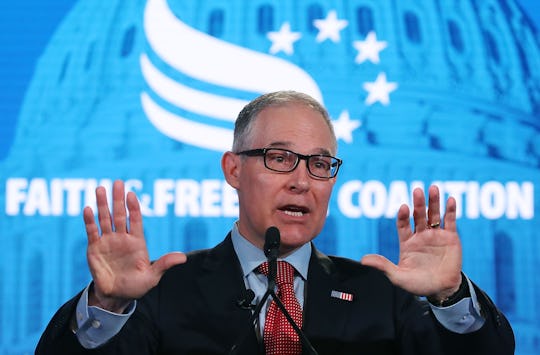 Mark Wilson/Getty Images News/Getty Images
This Mom Confronted EPA Head Scott Pruitt At A Restaurant & It's A Must-Watch
On Monday, Kristin Mink wrote on Facebook that she walked up to the Trump Administration's Environmental Protection Agency Administrator and, politely, gave him a piece of her mind. This mom confronted Scott Pruitt at a restaurant, partly on behalf of her 2-year-old son. And Twitter absolutely loved it.
Mink uploaded a video to her Facebook page on Monday which featured her going to speak with Pruitt at a Teaism restaurant in Washington, D.C. He appeared to be enjoying lunch with someone else, but that didn't stop Mink from calmly introducing herself to the EPA Administrator and letting him know what she thinks of his actions in his role with President Donald Trump's administration.
Mink went as far as urging Pruitt to resign when she confronted him, and honestly, she did so very respectfully. Mink brought her son with her to talk to Pruitt, along with an informative note in her hands with some bullet points about some of the actions Pruitt has implemented in his job and some of the policy positions he has taken that she didn't approve of.
Mink did not respond to Romper's request for comment as of publication.
When word got out about Mink's conversation with Pruitt, Twitter went nuts. Everyone seemed to approve of Mink, and they especially loved that it was a proactive mom who took the EPA Administrator on.
In the video above, Pruitt opened the clip with a description of the encounter. She wrote, "Scott Pruitt, current head of the EPA, was having lunch 3 tables away from Teaism in D.C., 7/2/18. I introduced my 2-year-old and told Pruitt my son loves animals, breathing clean air, and drinking clean water. He got up and left."
After the explanation, you see Mink approach Pruitt at a small table. She immediately launched into her reason for being there, and opened the conversation with, "Hi, I just wanted to urge you to resign." Because moms are nothing if not great time managers, and clearly, Mink wanted to get to what she had to say right off the bat.
Mink then introduced her son to Pruitt, and told the EPA head, "This is my son. He loves animals. He loves clean air. He loves clean water. Meanwhile, you're slashing strong fuel standards for cars and trucks, for the benefit of big corporations," among other serious grievances she has with Pruitt's actions, according to Politico.
"We deserve to have somebody at the EPA who actually does protect our environment," Mink told Pruitt, as seen in the video. Pruitt's response is not featured in the video, but after Mink said her piece and the video clip ends, Mink wrote the following:
Cowardly Pruitt had no response. He, his companion, and their 2 tax-paid security guards fled the restaurant before I got back to my seat. Our children's future is at stake. As citizens, it is our responsibility to confront corrupt, unethical, and immoral government officials whenever and wherever we see them.
She then included a link for viewers to get more information about Pruitt.
Although a response from Pruitt is not featured in Mink's video, Lincoln Ferguson, an EPA spokesman, said Pruitt thanked Mink for her comments. Ferguson said, according to USA Today:
Administrator Pruitt always welcomes input from Americans, whether they agree or disagree with the decisions being made at EPA. This is evident by him listening to her comments and going on to thank her, which is not shown in the video. His leaving had nothing to do with the confrontation, he had simply finished his meal and needed to get back to EPA for a briefing.
A representative for Pruitt did not immediately respond to Romper's request for comment.
Along with the video, Mink wrote the following about Pruitt and the confrontation:
This man is directly and significantly harming my child's — and every child's — health and future with decisions to roll back environmental regulations for the benefit of big corporations, while he uses taxpayer money to fund a lavish lifestyle. He's corrupt, he's a liar, he's a climate change denier, and as a public servant, he should not be able to go out in public without hearing from the citizens he's hurting.
Mink's decision to speak with Pruitt was actually directly related to her role as a mom. She told DCist, "I felt those mom instincts rising up. This is the man trying to steal my son's future."
And the internet really loved that this mom took action when she found the opportunity to do so.
A lot of people pointed out how awesome it was that a mom was the one to speak with Pruitt about her concerns.
The truth is, everyone should be keeping their elected officials accountable, and that's all Mink was doing when she decided to speak with Pruitt.
It makes sense that a parent such as Mink would be especially concerned with the actions of an environmental agency's administrator, because the policies he implements are bound to impact her child's future and the world he grows up in. It really shouldn't be a surprise to anyone that it was a mom who brought up these issues with Pruitt, because let's be real — moms get stuff done.