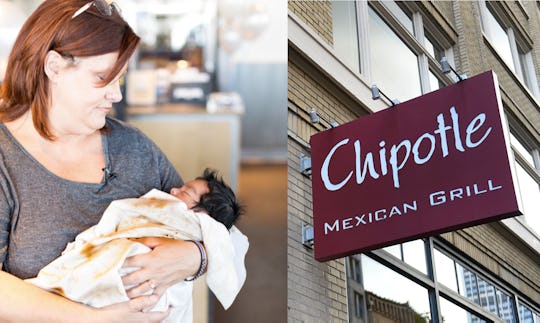 Left: Photo by Cody Sowa for Chipotle; Right: Steve Dykes/Getty Images News/Getty Images
Chipotle Did The Sweetest Thing For A Mom Who Gave Birth In Their Parking Lot
As if giving birth in general isn't scary enough, imagine having to give birth in your car, of all places! Last month, a Colorado mom gave birth in a Chipotle parking lot, and on Sunday, the restaurant congratulated her in an amazing way: it threw the mom and her new son, Jaden Flores, a belated bridal shower — with plenty of awesome, touching surprises.
In early April, mom-of-three Adrianna Alvarez became a mom-of-four from her parked car in the the parking lot of a Chipotle in Centennial, Colorado, according to a press release. The birth went off without a hitch thanks to 911 dispatcher Angie Schell, who guided Alvarez and her husband, Saul Flores, through the delivery over the phone, according to Fox31 Denver. While the location might seem random and inconvenient to most, it actually holds some significance for Alvarez: she and Flores met at a Chipotle. If all that isn't an excuse to spring for extra guac, I don't know what is.
As the story picked up steam, Chipotle decided to honor Alvarez and Schell in a pretty amazing way. The Centennial, Colorado location of the Mexican restaurant organized a baby shower so that the couple could finally meet the woman who helped Alvarez give birth. The two women knew they'd be meeting face-to-face at the shower, but they had no idea just how on-brand the whole event would be, according to the press release.
The shower featured a sign that read "Congrats on your little burrito," alongside a bunch of cupcakes topped with teeny-tiny burritos made of sugar. Nom.
And speaking of dessert, there was also an intricate cake topped with a sugar burrito and a sugar baby. Dang, those are some pretty sweet details.
There was plenty of Chipotle food to go around, and the whole restaurant was decorated with red, white, and blue balloons.
Naturally, Jaden showed up to his party in a Chipotle T-shirt. It's important to teach babies the importance of being on-brand from a young age these days.
And of course, Alvarez and Flores finally got to meet Schell, the woman who talked them through the birth.
It's clear that Schell and baby Jaden already have a special bond. (Also, can we please talk about the burrito blanket he's wrapped in?!)
In a video shared by 9News last month, you can hear Schell's and Flores' voices. "Oh my god the baby's coming!" Flores is heard saying.
From 16 miles away, Schell calmly gave Flores tips. She told him to apply pressure during contractions to keep the baby from coming out too fast, and to be mindful that the baby will be slippery when he emerges. Jaden was born in just six minutes, and based on a photo in the 9News video, it appears that the couple went to the hospital after the sudden birth. (Unfortunately, there was no time for a burrito bowl in between.)
Schell was grateful to be the one on the other end of the line for the couple, telling 9News:
I've been the last voice that many people have spoken to, so it's really nice to be able to be there for their first breath too.
And in footage of the baby shower shared with Romper, Alvarez opened up about the experience of giving birth from the Chipotle parking lot. She said:
I had so much going on that my head froze... I was in shock, but it was kind of like a relief. There was nobody around me, I couldn't hear anybody. It was just me and him.
Congrats to the happy couple on their baby burrito!
Check out Romper's new video series, Bearing The Motherload, where disagreeing parents from different sides of an issue sit down with a mediator and talk about how to support (and not judge) each other's parenting perspectives. New episodes air Mondays on Facebook.