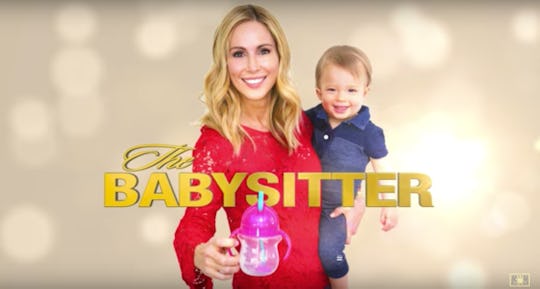 WhatsUpMoms/https://www.youtube.com/watch?v=0vOjh3fJRDc
Mom's 'The Bachelor' Parody Is Spot On
Until I became a mom myself, I had no concept of the value of good babysitters. Finding someone reliable and trustworthy isn't exactly easy, and if you get lucky enough to score amazing help, you need to hold on to them with both hands (our babysitter washes the dishes and packs the kids' lunches for the next day, and my love for her knows no bounds). That parenting reality is also why this mom-inspired The Bachelor parody from YouTube vloggers What's Up Moms is so entertaining. Because honestly, sometimes trying to find the right babysitter can feel as challenging as trying to find The One.
The ladies of What's Up Moms are known and loved for their hilarious parenting-themed parody videos — they're the No. 1 Moms Network on YouTube — and in their latest comedy update, they've taken on everyone's guilty-pleasure dating reality show. Mom of two Brooke Mahan stars in the hilarious video, according to The Huffington Post, in which she tries to find the perfect babysitter from a pool of bachelorette-esque hopefuls who are all hoping to be the one to get the final sippy cup (and the coveted keys to Brooke's minivan). Naturally, there is also plenty of drama along the way.
The totally over-the-top nature of The Bachelor makes it the perfect parody target, and The Babysitter certainly does not disappoint. The clip captures everything from the show's signature first-episode scene where the girls emerge from their limos to meet that season's bachelor (in Brooke's world they arrive in minivans, and are eager to make a good first impression with a little help from stuffed animals, bubbles and skipping ropes), to the group dates (at the park, obviously) and the all-important one-on-one time.
Then there's the token season villain of the show, 23-year-old Leslie, who swoops in with a perfectly timed, "um, can I steal you for a sec?" while Brooke is spending quality puzzle-building time with another girl. And like any good love-to-hate The Bachelor contestant, she doesn't hide her motives, proclaiming, "I'm not here to make friends. I'm here to make $15 an hour."
In addition to totally nailing their impression of the show, What's Up Moms perfectly captures some very relatable parenting truths, too. When Brooke gets her hopes up about one babysitter who she sees loading the dishwasher (who then replies with the magic words, "I already did the laundry, I hope that's OK."), every parent whose ever felt the gratitude-filled love you can only feel for someone who took it upon themselves to complete household chores understood her soul-crushing heartbreak when it turns out that Cindy "[doesn't] do weekends." Sigh.
The hilarity of The Babysitter might not be something you can truly relate to until you've found yourself in the desperate position of needing to hire someone to help watch your kids on the regular, but it definitely illustrates a somewhat bizarre aspect of motherhood that no one tells you about when you're pregnant. It takes a village, after all, and if you don't have a great built-in network of grandparents or other go-to helpers? Well let's just say my husband and I have regular conversations about how we should continue to woo our babysitter so she never, ever leaves us.