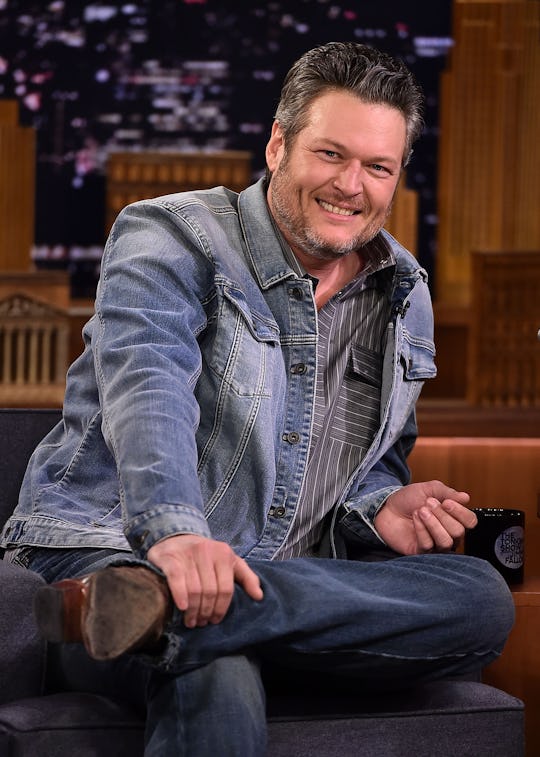 Theo Wargo/Getty Images Entertainment/Getty Images
This Mom Is "Embarrassed" Her Kid Has Blake Shelton's Old School Book
In case you've been living under a rock for the past week or so — or if you've just been a busy, sleep-deprived zombie (because children) — teachers in Oklahoma have participated in five days of walkouts so far. The reasons for the protesting are many. From literally not having enough chairs for students to sit in, to working with textbooks that are tattered and horribly outdated, to teachers not being paid livable wages, Oklahoma educators are demanding change. And now. Parents and teachers have taken to social media in recent weeks, in addition to physical demonstrations, to speak out against the depressing state of classrooms, textbooks, and supplies. In fact, this mom is "embarrassed" that her child's school book once belonged to Blake Shelton. And it's totally legit.
On Wednesday, Shelly Parker — a mom and former teacher from Ada, Oklahoma — took to Facebook to share a revelation she had about a textbook issued to her daughter, KOCO News 5 reported. "Marley is EXCITED that her 'new' reader belonged to Blake Shelton, but I am EMBARRASSED," Parker wrote, alongside proof of the country singer's name and "1982" written on the inside of the book. "I'm 40 and these people are my age!!! Thank you to every teacher/parent/support staffer/etc. for fighting for my kids education!!! Don't give up until education is FULLY FUNDED!!!!"
A quick search reveals that Blake Shelton, 41, did, in fact, grow up in Ada, Oklahoma, according to Biography,com. So there's a pretty good chance the country singer really did read this book during his school years. Mind = blown.
Needless to say, Facebook users had a lot of feelings about the fact that a book this old is still being used in classrooms today. "This breaks my heart. These types of slap in the face stories will make the difference!" one person commented. "Thank you for sharing this! Let's hope we can get funding so your precious little girl and all our Oklahoma students can have what they need for a bright future!!!" another Facebook user wrote.
Some commenters had a few helpful suggestions for how the book could potentially help the school system. "I would sell the book on E-Bay. You might raise enough money to buy books," one person advised. "This may have already been suggested, but the school should put the book up for auction! Maybe it would bring enough to do something they need!!" another user commented.
Others used humor to deflect how depressing this book actually is. "Maybe President Regan will see this and help," one Facebook user commented. "Also apparently Pluto is still a planet and one day we might all have these cool things called computers in our homes." LOL. (Actually, I'm not sure whether to laugh or cry at this point.)
Some hoped that Shelton would catch wind of the issue and step in to help in some way. "Oh wow Blake should see this!" one Facebook commenter wrote. "Hopefully Oklahoma is in store for a brighter future for our teachers and students!"
Still others seemed to miss the point entirely. "I'm not sure I understand why you are embarrassed?!" one person wrote. "Literature is timeless. The book looks to be in good condition. What is the issue?! Your daughter is one lucky little girl to have the same reader Blake did — at her age I'd have been so excited too, just because!!!!" Ugh. *Eye roll* Except, this is a school textbook we're talking about, here. Students in Oklahoma are using readers that are as old as their parents. Regardless of the school subject, I can't see how this is acceptable.
At first, Parker couldn't believe it herself. "I said, 'No, that can't be,'" Parker told People. "I can't believe these books are so old. When I was in school, I wasn't using books that were 40 years old." However, Parker noted that she wasn't too surprised to see his name in her daughter's book; she speculated the news has probably gotten back to Shelton, too. "I'm sure he has. There are so many people that are related to him around here. He has a huge family." So far, though, it doesn't look as if Blake Shelton has publicly responded to this viral story.
And honestly, this Blake Shelton textbook is only the tip of the iceberg when it comes to the issues educators and students are facing in Oklahoma. Take a look a the state of other textbooks that are still in use.
Clearly, Oklahoma schools are in serious need of help from the state. Because basic school supplies and fairly-paid teachers aren't a luxury — they're the bare minimum. And our children and teachers deserve so much better.