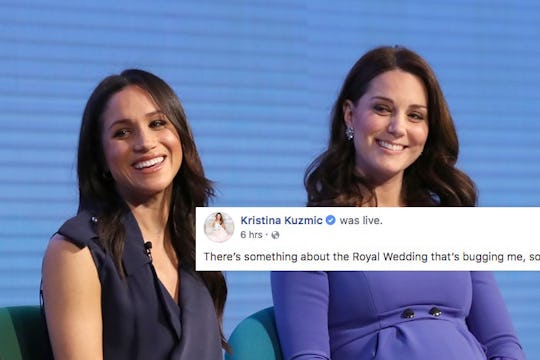 Chris Jackson/Getty Images Entertainment/Getty Images/ Kristina Kuzmic/ Facebook
This Mom Nails Why Comparing Meghan Markle & Kate Middleton Is Pretty Problematic
Though the mania of this past weekend's royal wedding is beginning to unwind, it seems that just about everyone has an opinion on Prince Harry and Meghan Markle's nuptials: what they did wrong, what they did right, and of course, how they compared to other royal couples. It's a given that one couple's wedding won't be everyone's cup of tea (pun very much intended), but there seems to be an alarming trend in the mix this time, and some people have identified that it's pretty problematic. Kristina Kuzmic, a vlogger known for her brutally honest videos about parenthood, is not OK with comparing Meghan Markle and Kate Middleton, and it's an important reminder that many people seem to need.
A common sentiment in the hours and days since Prince Harry and Markle's wedding has been whether Middleton or Markle "won," comparing this weekend's wedding with Middleon and Prince William's 2011 nuptials. At the very least, "winning" is odd terminology to use in this case, given that it exists to do nothing other than pit two women against each other by comparing the most minute details about everything from their hair to their clothes. It's telling of the toxic environment society cultivates for women, and especially so on such an important and significant day in their lives.
Kuzmic took to a live Facebook video on Monday to share her thoughts on the all-too-common trend.
"I am seeing so many comments, and so many articles, even celebrities weighing in on who 'won,' whose wedding dress won, who looked better, Kate or Meghan... who 'won,'" she began. "I think it's normal to have a preference. But this is the whole reason why women are so insecure, because we are constantly comparing, which I tell you all the time don't compare. But on top of that now there's winners."
She continued, "And when you're saying that someone won, then you're saying that someone lose, and someone is the loser."
Kuzmic went on to explain that it's just completely unnecessary to be comparing women against each other, especially on their respective wedding days. She argued that if you are always looking for a winner, you're also always creating a loser... and that's just not OK.
"We just need to stop pitting women against each other. The way they look, how shallow. The wedding dress they pick? Really?" She continued:
The sad thing is, probably for the rest of their lives, those two women will be compared, and one will always lose. I don't understand why. Why is that necessary? Why can't they be different? Why can't they be great in their own ways? Why does somebody have to win?
It's possible that one of the celebrities Kuzmic referenced was Katy Perry. On Monday, she told Entertainment Tonight that she didn't think Markle's wedding dress fit well, and that Middleton "won" (whatever that means). "I would have done one more fitting," she said. "I'm never not going to tell the truth! One more fitting, but I love you." She continued: "Kate, Kate, Kate won, Kate won!"
Perry continued to say that despite it all, she's very happy for the new couple. As the BBC reported, she shared on American Idol:
I'm so happy for them, and, you know, I don't know them from Adam, but it's amazing what she's doing with all this, her humanitarian efforts. You know, the fact that she's a proud feminist, I love all that. I support her as another woman and love her and wish them both well.
Be that as it is, it's important to remember that any language that insinuates one woman's wedding dress choice postures her as superior or inferior to another woman is, uh, pretty anti-feminist, and is a sign of an even more problematic mindset. Middleton and Markle are individuals, their weddings were different, like them, and regardless of anyone's personal preferences, they did not get dressed that day in order to compete with each other for title of "winner." As Kuzmic noted, they got dressed to get married, and get married they did, and all of the competing, winning and pitting against each other simply needs to end.