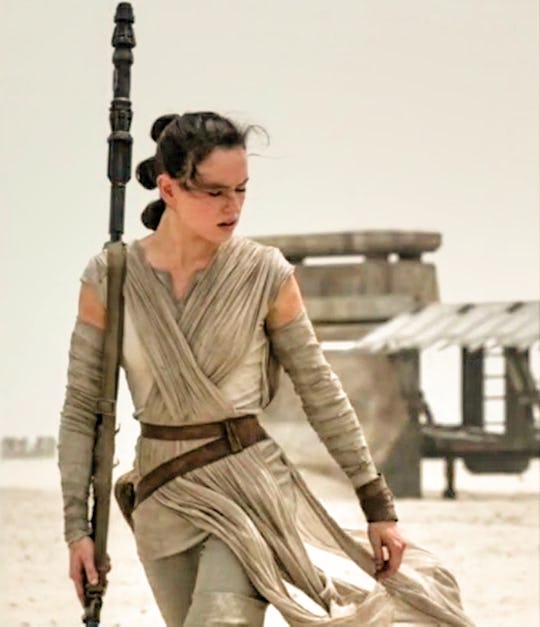 This Mom Painted A 'Star Wars' Mural For Her Daughter, & It's Really Amazing — PHOTOS
Whether you went to opening night in 1977 or you watched the films in your living room with diehard parents for the first time, it's easy to see why the famous Star Wars films are part of, arguably, the most beloved movie franchise in cinematic history. But with the release of Star Wars: The Force Awakens has surfaced a new generation of Jedi, like Emily Rose's daughter. She's such a big fan, in fact, that her mom painted a Star Wars mural for her, celebrating her favorite new character, Rey.
Even though Rey was oddly left out of some Star Wars merchandise, her character has provided young girls and boys with a new hero to loudly cheer for, and Emily Rose's daughter is no exception. Rose and her daughter searched for a Rey action figure, a difficult task as the heroine was also absent from the Hasbro's Star Wars: The Force Awakens sets. When the two finally found Rey, Emily decided to take the fandom one step further, and hand-paint a life-sized mural on her daughter's bedroom wall.
"Her reaction was hysterical," Rose told BuzzFeed. "She flattened herself to the wall trying to hug that mural, and cheered with joy, and then flung herself on the floor."
After her initial (not to mention, adorable) reaction, Rose's daughter quickly put on her Rey costume, grabbed her lightsaber, and started reading her Star Wars books to hand-painted Rey and her stuffed BB-8 and R2-D2.
The Force is strong with this one.
This isn't the first life-sized mural this talented mom has painted. According to Emily's twitter, five years ago she painted a Doctor Who mural and, well, it's just as impressive as Rey.
I love my mother, but if Emily is open to adopting me so she can paint me gorgeous life-sized murals, I wouldn't be opposed. Like, at all.
Image: Lucasfilm