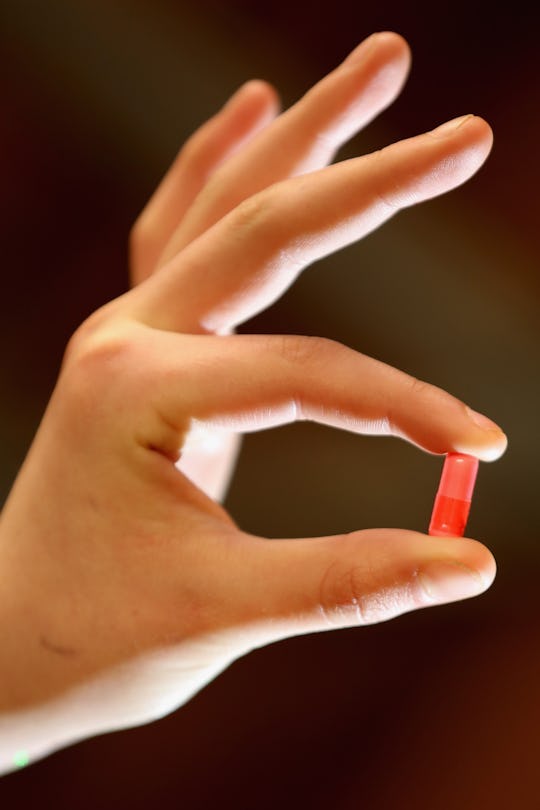 Christopher Furlong/Getty Images News/Getty Images
This Mom Thought Her Daughter Had Drugs, & It Led To A Hilarious Text Exchange
One mom's stand against her daughter's suspected drug use is another person's hilarious viral Tweet. Lisa Banks is the Texas mom of 16-year-old Ashley, and when she thought her daughter had drugs, it led to a hilarious text exchange every mother will be able to relate to.
It all started with Ashley texting her mom asking her to put a calculator in their mailbox because "Mj needs it for her SAT," according to TODAY. "Sure is it in your room," Lisa replied, ever the helpful mom. Ashley told her it was "prolly in my nightstand drawer."
At this point I can imagine Lisa walking into her daughter's room, maybe picking up some clothes off the floor and opening her daughter's nightstand drawer. What she saw — a bag of bright colored capsules — must have sent her into a full panic. Lisa assumed the worst: her daughter has been abusing drugs. Her thoughts must have started to race. She must have started to recount every conversation she had with Ashley over the previous weeks and re-think every parenting decision she's ever made.
So Lisa did what any concerned parent would have done: she demanded her daughter get her butt home to face the consequences. But there was one, hilarious twist. The capsules weren't drugs at all, but were just one of those novelty toys where you drop the tablets in water and watch a toy grow. Instead of a baggie full of MDMA, Ashley had a baggie full of Styrofoam dinosaurs.
Here's the hilarious exchange from Ashley's Twitter account.
After discovering the "drugs" Lisa wrote this to her daughter.
Ashley Carol I will not have drugs in my house. Come home right now. As soon as your dad comes home from California we will discuss your consequences. As for now your (sic) grounded and you will not be leaving the house. Come home this instant.
Way to go mom! You tell her! Also bonus points for the use of her middle name to let her know you mean business. Ashley responded with this. "Mom they aren't drugs lol. Go put them in water."
"Why?" Lisa asked.
"Just do it lol," was Ashley's response.
After Lisa realized that the capsules were, in fact, toy dinosaurs, she quickly took back her edict. "Nevermind. You don't have to come home," Lisa wrote. Why in the Earth would you buy these? I thought you were 16 not 7?"
Ashley replied she thought they "looked cool."
Her mom clearly wasn't into them, though. But don't worry, Lisa, every parent alive will likely feel your dread and shock in that moment at some point. Way to keep an eye on your kid. You are a real hero — a hilarious hero, but that's a parent's job, after all.