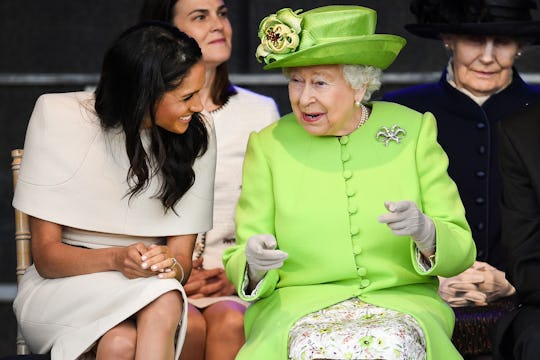 Jeff J Mitchell/Getty Images Entertainment/Getty Images
Meghan Markle Had An Adorable Moment Of Uncertainty With The Queen On Their Royal Trip — VIDEO
It doesn't matter if you're a celebrity, a billionaire athlete, or just a millennial living life, odds are you've dealt with your fair share of awkward or embarrassing moments. And it looks like royal family is not immune to this fact of life either. At their first royal outing together, Meghan Markle and the queen shared an adorable moment of awkwardness as dozens of photographers and reporters documented it for the world to see. But I'm so glad they did, because this moment will just make you love the new royal (and her enviable relationship with the queen) even more than you already do.
In case you weren't aware, the newly-crowned Duchess of Sussex and Queen Elizabeth II embarked on their first trip together on Thursday, according to Glamour. Well, technically on Wednesday night when the two left London and boarded the "Royal Train" to travel overnight so they could wake up in their destination of Cheshire in the United Kingdom, according to The Cut.
Now, as you might imagine, it's possible that Markle was probably more than a little nervous about being alone with her grandmother-in-law for the first time at a very highly publicized event. So, when the two got off the train on Thursday morning and headed to the car arranged for them, it's more than understandable that Markle might now have known exactly what to do in the moment.
Now, it really isn't that big of a deal, but as the two were about to get in the backseat of the car, the queen made her way toward the open door, seemingly preparing to get in first. Then, as the Daily Mail reported, there was a moment of confusion when Markle scooted forward and reportedly asked the queen, "What's your preference?" according to the Daily Mail, and then the queen backed up and let the newlywed get in the car first.
When you watch the video, you can see that Markle wasn't being disrespectful or anything of that nature when she asked about the queen's seating preference in the car. It was just one of those moments when you think there's a specific way to go about it, but you're just not too sure — and you're hanging out with the queen. See for yourself:
See? It was just an adorably awkward moment. What's more, an expert in etiquette, William Hanson, told the Daily Mail that the queen actually does have a preference — she reportedly likes sitting directly behind the driver — so Markle was likely just trying to ensure that the monarch got the seat she wanted and was comfortable during their car ride.
After that moment, things seemed to go as smooth as ever once the two arrived in Cheshire to witness the unveiling of a new bridge, the Mersey Gateway Bridge. But that's not what people have been focused on. In fact, much has been made of the fact that Markle and the queen spent the night on the royal train together, something that Kate Middleton nor the queen's grandsons — Prince William and Prince Harry — are believed to have experienced for themselves yet, according to Express.
It's not clear why Markle was given this fun privilege before even her own hubby, but the queen must have her reasons for everything she does. Perhaps she just wants to make sure that Markle is adjusting to royal life with as much support and ease as possible.
Whatever the case may be, it's obvious that Markle and the queen already have a special bond and that the duchess is already doing an excellent job with her royal duties — awkward moments and all.