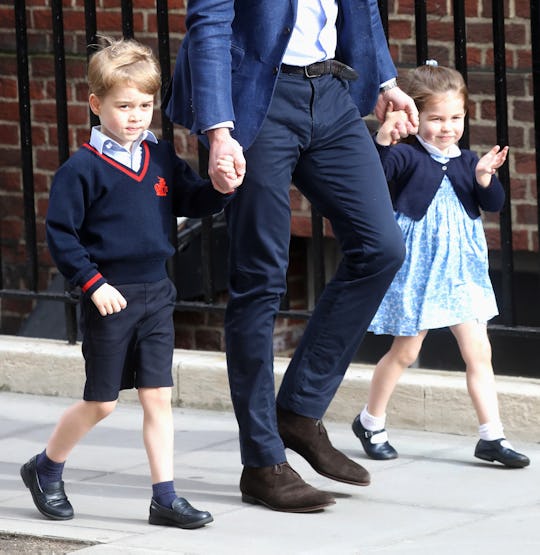 Chris Jackson/Getty Images Entertainment/Getty Images
It Looks Like Prince George Pulled A *Classic* Big Brother Move When Meeting The Royal Baby
All eyes were on St. Mary's Hospital on Monday morning as it was announced that Kate Middleton had safely delivered her third child — a son, born at 11:01 a.m. local time, weighing at 8 pounds, 7 ounces. There's always a remarkable amount of fanfare surrounding royal births, and the world was watching intently in anticipation of Middleton and Prince William walking out the doors of the Lindo Wing. However, one of the cutest moments to transpire was when the new baby's siblings came to meet him for the first time. Those watching closely realized that it looks like something pretty funny went down as they walked inside, and this moment between Prince George and Princess Charlotte will feel all too familiar to anyone with a big brother or, honestly, any parent with rascally little kids.
A Twitter user named Gabrielle Catlow was the first to realize that, upon close inspection, it appears that Prince George flicked Princess Charlotte's head as they walked inside the hospital. Despite being, uh, you know, royal, it goes to show that older siblings are literally the same no matter how famous they might be.
Harper's Bazaar later reported that though some are speculating he was just reaching in for a hug, it seems pretty clear that his hand does a "flicking" motion (and let's be real, which is more plausible?). Either way, people on social media have been delighting in just how relatable the mischievous and all-too-real moment was.
"I confirm the technique as the eldest of three. Keep it real, George," one Twitter user joked.
"I thought maybe peeved at her too darn cute waving... lol... or just being pesky older brother!" another chimed in on the moment.
It's clear that people are both endeared by how, well, normal they are as siblings, and how sweet it is to remember that even the royal family has tiny royal mischief to deal with (what could be cuter?).
Elle UK reported that the new baby — whose name has not yet been revealed — has been getting some one-on-one bonding time with his siblings, as Prince George and Princess Charlotte have been off from school. As 2-year-old Charlotte is not due to be back in school until Thursday, according to the publication, the two have reportedly been able to spend some uninterrupted family time together.
Since the newest royal baby's birth, there's been a lot of discussion about his siblings and how he is — and isn't —  changing the succession to the throne. It stands then that Princess Charlotte is actually the one making history after her little brother's birth, as thanks to the Succession to the Crown Act of 2013, which states that a boy will not surpass a sister upon his birth. This means that Princess Charlotte and the new royal baby are fourth and fifth in line to the throne, respectively.
Though details about the new baby's birth are still shrouded in mystery (the name has yet to be released as of the time of this article, despite the fact that Prince George and Princess Charlotte's names were made public two days after they were born) however, news has been circulating that Prince William may have dropped a not-so-subtle hint about what his new son's name is. HuffPost reported that during an appearance early on Wednesday, Alexander Downer, the Australian high commissioner, told Prince William he liked his own name for the royal baby. Prince William replied by saying: "Funny you should say that ― it's a good name. Prince Alexander does have a nice ring to it." The Sun reported that the most popular baby name predictions prior to that conversation were Arthur, Albert, James, Philip and Henry.
Though it's only a matter of time before that rumor is confirmed or denied, what is known now is that the new parents are taking their time to adjust to life with another little one, and are so grateful to have another member of their family join them. Prince William also said at the same event that the new baby is behaving, and sleeping well. People reported he said everyone was "in good form," referring to how Middleton is recovering and how the new baby is adjusting to that sweet, sweet royal life.
It's probably only a matter of time until Princess Charlotte is the one doing the head flicking, as per her true duty as big sister.
Check out Romper's new video series, Bearing The Motherload, where disagreeing parents from different sides of an issue sit down with a mediator and talk about how to support (and not judge) each other's parenting perspectives. New episodes air Mondays on Facebook.