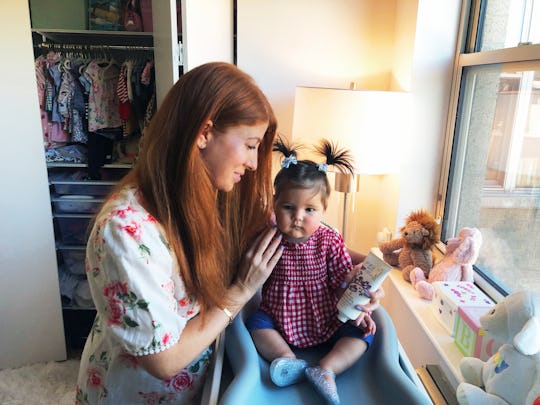 Courtesy of Alissa London
This Mom's #before9am List Proves Even Saturdays Are A Hustle
For Alissa London, Saturday mornings used to be all about sleeping in. "I am a true believer in beauty rest and the positive affects it has on every aspect of your life," she says, noting that before her now 9-month-old daughter Sunny was born, alarms were strictly forbidden on weekends. A relaxing Saturday morning at home with her husband was typically followed by brunch with friends, running errands, and shopping around her SoHo, New York City neighborhood — a routine that hasn't changed all that much aside from the slightly earlier wake up call around 7:30 a.m. and the addition of a new sidekick.
"Now that we have Sunny, she makes all of this even more fun," says London. "As long as she is 'in the mix' — aka sitting at the table with us feeling like she's part of the convo — then she's happy. If we try keeping her in her stroller she throws a fit!"
Though these days she has a new friend in tow for her weekend plans, there are some parts of London's Saturday morning routine that will never change, like always taking the time to apply SPF to herself and her daughter before going outside. To find out a little more about what her weekends look like these days, Romper partnered with Australian Gold to take a peek into London's #before9am Saturday routine:
7:30 a.m.
Wake up with Sunny, feed her a fruit puree in her high chair and then a bottle on the couch or in my bedroom.
7:45 a.m.
Time for wardrobe! Especially on Saturdays when we're usually out for a better part of the day, I dress Sunny in a look that can be worn all day — layers are key. Plus, SPF is a must as the days are getting warmer and Sunny's sleeves are getting shorter.
8:00 a.m.
Once she's dressed, I hand Sunny off to her dad and they spend some quality time together watching cartoons or football while I get myself ready for the day.
8:00 to 8:15 a.m.
I meditate, shower, and take care of my skin, which is something I have been conscious of since grade school. Applying tinted moisturizer with SPF to keep my skin healthy is essential! I'll also pick out an outfit for myself that works from day to night, and I'm good to go.
8:15 a.m.
Before we leave for the day, I pack Sunny's diaper bag with a change of clothes, her kid-friendly mineral SPF, diapers, extra bows (missy likes to pull hers out!), and teething rings as she is majorly teething right now.
8:20 a.m.
I entertain Sunny as her dad gets dressed and runs out to grab us coffees. She and I read books in her room, do a little tummy time and rolling practice, and sing some songs before it's time to go.
9:00 a.m.
And we're off! Sunny, my husband and I head out for the day to brunch as a family, which is always followed up with birthday parties, meeting with friends, and plenty of errands.
This post is sponsored by Australian Gold.