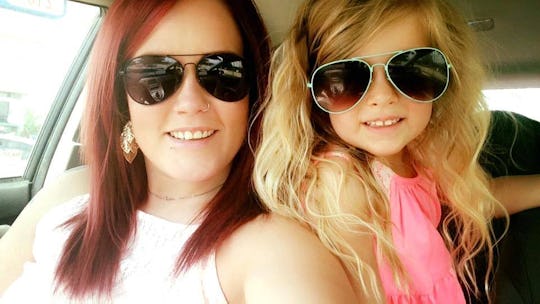 Courtesy of Brittney Johnson
This Mom Co-Parenting With Her Ex's Girlfriend Is Goals
When a relationship ends and there are kids involved, the fallout can be messy — and since you're raising children together, there's no real way to sever ties or avoid conflict. However, the way one single mom recently responded to her ex's new girlfriend parenting their daughter is a healthy reminder of why exes are co-parenting in the first place: for the good of the tiny humans they're raising.
Brittney Johnson, a 27-year-old mom living in Columbia, Missouri, recently shared on Facebook that she loves her ex's new girlfriend, Kayla Imhoff. "To all of the mothers out there who throw a fit when another woman treats your child as her own: why isn't that exactly what you want?" Johnson wrote on Facebook last week. "Let me tell you, I'm raising a strong girl, a smart girl and a sweet girl. And I want nothing more than for her to be surrounded with role models who are exactly that."
According to Babble, Johnson first took her daughter Payton to meet Imhoff at a playground two years ago, and the two women have since become fast friends who work together to give Payton the best environment possible. According to Johnson, competing with someone that Payton loves simply wouldn't make sense.
It's not that Johnson or Imhoff expected everything to go smoothly right away. "I think it's typical for a parent in that situation to worry that their child will like the bonus parent 'more' or 'better.' I had that worry at first," Johnson tells Romper. Her advice, however, is to take things slowly and keep an open mind. She continues:
Take the time to learn where they came from, what their hobbies are, and appreciate what they bring to the table. The more people that love your child or children, the better. After meeting Kayla, I realized how sweet she was and that she only had good intentions and it made it easier for me to want to get to know her. Once I realized how much Payton loved her, I knew that we would become friends. I love the people my daughter loves. Kayla and I have both always had an open mind and that has made all the difference.
According to family law firm McKinley Irvin, half of all kids in the United States will go through their parents' divorce. For children, seeing their parents split up can be difficult enough — and continuing that cycle with jealousy and resentment only extends that pain. However, if one or both parents find new partners who are willing to love that child as their very own, why wouldn't you want to see your child thrive in that environment?
"The most important thing is for your child to know they are the priority and their happiness comes first," Johnson tells Romper. "Kayla and I talk about discipline [and] school holiday schedules together before we ever talk to Payton about it, and then she knows that we are a team and she doesn't have to be involved in the 'adult' part."
Johnson and Imhoff plan ahead for the holidays, have a girls' days for Payton's birthday, and discuss parenting issues together, all while giving each other enough space to form strong personal connections with Payton. The work that Johnson and Imhoff have put into co-parenting has clearly paid off — and Johnson's daughter now has a "bonus" parent around to inspire, challenge, and raise her.
"Payton has more people to love her this way, and what more could a mother ever want for her child?" Johnson wrote on Facebook. "It takes a village, and I happen to love mine."