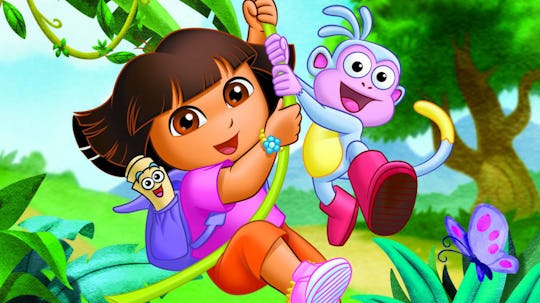 Courtesy of Nickelodeon
This New Dora The Explorer App Will Keep Your Kids Occupied & Teach Them Something
With summer break officially in full swing, caregivers across the nation may soon run out of ways to keep kids busy. And because kids can't necessarily be playing outside all day, every day, plenty of parents will turn to indoor activities to help keep their kids entertained and occupied. Rather than allowing the kiddos to solely zone out to cartoons, some caregivers might prefer activities that also stimulate learning. Well, this new Dora The Explorer app will keep your kids occupied, and teach them something new in the process.
On Tuesday, June 12, Nickelodeon International launched two apps for international audiences: "Dora's Worldwide Adventure" and "Nick Football Champions", according to a press release from Nickelodeon. The former is an educational geography app, and the latter is a "pop culture-driven celebration of global football season that invites kids to team up with Nickelodeon's beloved characters to pursue ultimate victory." These apps are now available in 12 languages on the iTunes, Google Play, and Amazon stores to users outside the United States, according to the news release.
"Both of these new games tap into what's important to our audience. Our research shows 89 percent of kids ages 6-8 are curious about the world," Kate Sils, vice president of multi-platform and brand engagement at Nickelodeon International, said in the news release. "We created Dora's Worldwide Adventure with that global interest and curiosity in mind."
So what exactly will kids be doing and learning while playing with the "Dora's Worldwide Adventure" app? The app aims to introduce preschool-aged children to geography as they learn about — and celebrate — different cultures with familiar faces, including Dora, Boots, Swiper, Isa, and more.
As of today's launch, players will be able to explore seven different countries alongside Dora: Australia, Brazil, China, Italy, Japan, the United Kingdom, and the United States.
Your child will also help Dora take pictures of landmarks, objects, and animals while exploring the different countries; record memories in Dora's photo book with pictures, stickers, and more; and unlock hats, shirts, dresses, and other clothing for Dora to wear. Sounds pretty fun, right?
"Nick Football Champions" allows users to score goals while playing as one of their favorite Nickelodeon characters. Kiddos will be able to dodge defenders, compete in matches, win tournaments, and participate in penalty shootouts to see how many trophies they can win. As they play, they can earn keys that unlock both new characters and Nickelodeon worlds — like SpongeBob SquarePants' Bikini Bottom. They'll also be able to collect stickers that can then be sent to friends via iOS.
If you're sold on either or both of these apps, "Dora's Worldwide Adventure" is available for download for $3.99, and "Nick Football Champions" is available for free. This pair of apps joins Nickelodeon's selection of more than 50 international apps, which have over 100 million collective downloads, according to the news release.
Look, I'm not saying having your kid play with the new Dora app will necessarily prevent the dreaded "summer slide" — which, according to some reports, state that students can lose two or three months of academic progress if they don't remain engaged in learning over summer break, as PBS reported. However, if it's between vegging out to another re-run of the same My Little Pony episode or Netflix movie and actively learning about other countries, you can probably guess what my choice would be: Dora all the way. Plus, I have a feeling my 4-year-old daughter would love playing with this app — with her 2-year-old sister watching and her 6-year-old brother telling her that she's playing it "wrong," of course. *Sigh* Is it September yet?