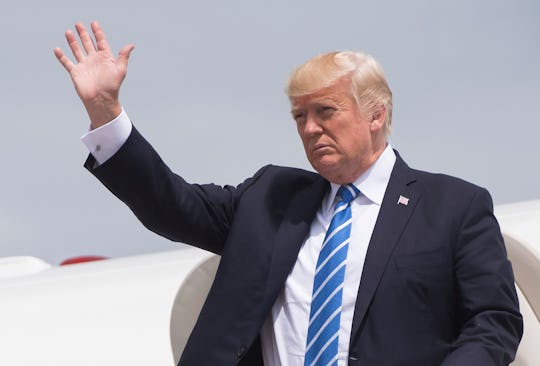 SAUL LOEB/AFP/Getty Images
Trump Needs A Mental Health Exam ASAP, House Rep Says
We've all heard the speculation about and reproaches of President Donald Trump in response to his consistently outrageous behavior — perhaps he has a personality disorder, he's mentally unstable, or that he doesn't have the attention span or the intellectual capacity to understand policy. While all Americans can see the results of his Twitter rants going after anyone who crosses him and his jumbled, sometimes incoherent comments on very real issues like health care, it's hard to know exactly what's going on in Trump's head and what — if any — affliction ails him. So, for some clarity, a new resolution introduced in the House of Representatives would make Trump undergo a mental health evaluation.
Rep. Zoe Lofgren, a California Democrat, officially proposed the measure Friday, claiming that the president "has exhibited an alarming pattern of behavior and speech causing concern that a mental disorder" that shows he's not capable of running the country, according to the resolution. The end goal is to compel Vice President Mike Pence and the rest of Trump's Cabinet to invoke the 25th Amendment in what would be an unprecedented move, allowing them (along with Congress) to permanently remove Trump from office.
If this were to happen, Pence would take over Trump's job. But if Trump were to object to the new arrangement (as he almost certainly would), a two-thirds majority of Congress would have to vote to force him from office. The White House did not respond to Romper's request for comment.
Because Republicans currently control both the House and the Senate, it's incredibly unlikely that this scenario would ever play out. And Lofgren knows that. As she told The Mercury News, the purpose of the resolution is more to "stimulate a conversation."
The question of what to do about Trump has long been dominating conversations among Democrats and other critics of the president, however. Around the same time that Lofgren introduced her resolution, for example, three other Democratic representatives announced that they would bring a formal resolution to censure Trump soon, as ABC News reported. They opted to take this action — which, if successful, would serve as Congress' official condemnation of the president — after Trump appeared to side with white supremacist protesters who rallied in Charlottesville, Virginia earlier this month when he wouldn't immediately condemned who was to blame for the violence.
A censure of the president would not remove him from office, but it would send a powerful symbolic message. Lofgren's proposal to invoke the 25th Amendment would be even more extreme, but she seems to have been motivated by the same incident as her colleagues calling for censure. On Tuesday, she tweeted her belief that it's "Shameful!" that he refuses to "condemn Nazis."
It's clear that Lofgren is not simply reacting to the fallout from the situation in Charlottesville in her assertion that the president should be evaluated. Maybe she's thinking about how he recently attacked Republican Senate Majority Leader Mitch McConnell on Twitter after Republicans failed to pass a health care bill; perhaps the incident in which he appeared to threaten North Korea with military force stands out. Most likely, it was the culmination of Trump's oftentimes erratic and impulsive behavior that led Logren's office to pose the following questions in a press release, according to The Hill:
Does the President suffer from early stage dementia? Has the stress of office aggravated a mental illness crippling impulse control? Has emotional disorder so impaired the President that he is unable to discharge his duties? Is the President mentally and emotionally stable?
Of course, having Trump evaluated by a mental health professional would offer some clarity on these fronts. Whether that will happen is another story entirely.