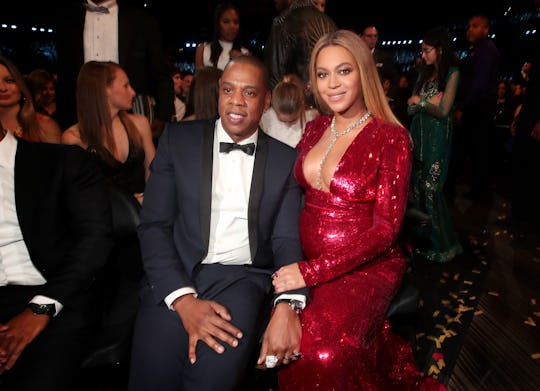 Christopher Polk/Getty Images Entertainment/Getty Images
This Latest Beyoncé Update Will Make You So Happy
The recent news cycle hasn't exactly been easy to follow. From numerous investigations into the Trump administration, to reality television taking an unexpected twist a lá Bachelor In Paradise, 2017 has been a whirlwind of a year. And while America's own unofficial Queen, Beyoncé, reportedly gave birth to her twins last month, the singer and goddess hasn't actually confirmed this news. Instead, fans have had to rely on anonymous sources and extensive internet stalking of everyone in the Carter's clique. But after news broke that Bey's delivery wasn't all smooth sailing, this new rumor about Beyoncé's recovery will make you so happy.
According to Hollywood Life, Queen Bey is recovering from the birth of the twins quickly and wonderfully. Per an anonymous source who spoke exclusively to the online publication, "Beyoncé is recovering from the twins' birth much quicker than she thought she would." As many fans may remember, Beyoncé was required to stay at the hospital for an extended amount of time after reportedly giving birth due to a "minor issue." So this latest news is a welcome update. "Considering how many difficulties she experienced during the pregnancy, she's bouncing back really fast," the source continued, and that's the kind of news we're here for.
Bey's twins, who were reportedly born on June 19 and are reportedly named Rumi and Sir, have been rumored to be premature babies, meaning it isn't surprising that they would have had a longer stay in the hospital. Nevertheless, it's comforting to hear that Beyoncé is on the up and up, because she has seriously been missed. As the source claimed,
Beyonce's energy levels are already getting back to near normal, and her body is looking amazing. Bey hasn't set herself any crazy timeframe to abide by, she's just enjoying adjusting to the new family demands, and allowing herself to heal accordingly.
Considering that it hasn't even been a month since Bey supposedly gave birth, her recovery is pretty extraordinary. Of course, everything Beyoncé does is extraordinary, but this is exceedingly so.
Fans will remember that Bey and husband JAY-Z waited a full month after the birth of their first child, 5-year-old daughter Blue Ivy, before sharing the news. So, as the days pass, the odds of an official Carter family announcement increase exponentially.
The 35-year-old new mom of three has stayed away from social media following the birth of the twins, and fans everywhere are eager to see what she has to say. And while JAY-Z, 43, has been everywhere recently, following the release of his latest album, 4:44, neither mom nor dad has spoken out about the newest additions to the family in an official capacity. Because, seriously, Bey definitely deserves some self-care time while she settles into her new life. And whenever she decides to share some info on the twins is fine with us.