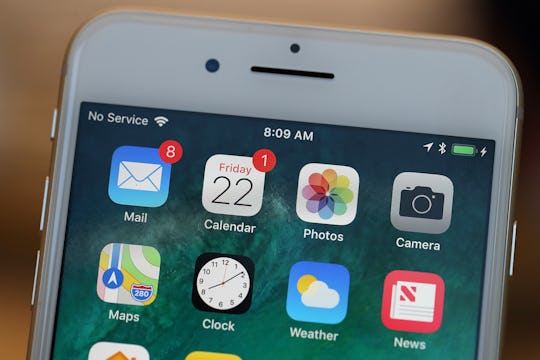 Justin Sullivan/Getty Images News/Getty Images
This New App Lets Parents Track Their Kids' Locations — Here's What You Need To Know
There are so many worries that come with parenting and a big one happens often when kids are out of sight — wondering just where are they exactly and if they've made it to their destinations safely. Now, a newly updated Verizon app lets parents track their kids' locations and see just where they are at any time. As with any new technology, you may have some questions and concerns, so here's what parents need to know about the new parental control app.
The feature is actually part of an upgrade and redesign to Verizon's existing app that allows parental controls on phones or devices that connect to their cellular service. According to the phone company's website, Verizon's SmartFamily — a redesign of "FamilyBase," according to Digital Trends — is the package that allows for content filters to limit internet access and data usage. The functions allow parents to filter out questionable content and limit access to apps. It seems that that feature has become more important in recent years, after it became apparent that teens were downloading apps parents didn't know about, according to Teensafe.org.
Now, with Verizon's feature, parents can block access to apps until they have a chance to take a look at them and decide if they're comfortable with their kid using it. The SmartFamily package is available starting at $4.99 per month after a 30-day free trial.
To add location tracking and text alerts that can let you know if your child made it somewhere, and even if they've left a predetermined area, the SmartFamily app will cost you $9.99 per month. The feature is able to link 10 phones together and provides a dashboard that lets parents view the location of all phones on one screen, according to Verizon. If an unfamiliar place shows up, there is a map function that provides a visual indicator of where a phone is. Text alerts can be scheduled for certain times, so parents know if a child is where they're expected to be, or customized to send when someone is changing locations, like heading home, as Verizon explained. And the system continually updates even if a parent's phone isn't logged in, storing a full seven days of history that can be accessed later.
Of course, with growing concerns over data privacy lately, parents are bound to have some questions and concerns over the way the system works. According to Verizon, the company assures users that nobody else will be able to use the feature to find their family's phones. "Only authorized family members (set by your account owner) are able to locate other Family Members' phones," according to Verizon. The company also advised the importance of keeping account information private to prevent anyone from gaining access to the system.
If a parent has a child tech-savvy enough to turn location services off on their phone, Verizon noted that the system can still provide a location, although it may not be as accurate. Verizon also noted that some Android devices allow for the location settings to be locked so that children are not able to access them and turn them off.
One glitch that might present problems is that location services can't find a phone during periods when the time restrictions are set to prevent internet access, according to Verizon. So if a child is supposed to be studying at a friend's house or the library and the internet restriction settings are turned on, there will be no way to verify where the child actually is. As of yet, Verizon does not appear to offer any workaround for that issue on its website Verizon also advised that it usually takes about 30 seconds to locate a phone, but can take up to 2 minutes, so don't grow impatient, parents, if the system isn't returning information at blazing speeds.
The new app is available for both Android and Apple devices, to include tablets and iPads. Families don't need to all have the same type of devices and can sign up for the system using a mix of Apple and Android. The service is available on all Verizon cell plans.
So while there's no app yet that lets moms and dads be with their children every minute, this new feature is offering parents a way to keep an eye on them.
Check out Romper's new video series, Bearing The Motherload, where disagreeing parents from different sides of an issue sit down with a mediator and talk about how to support (and not judge) each other's parenting perspectives. New episodes air Mondays on Facebook.