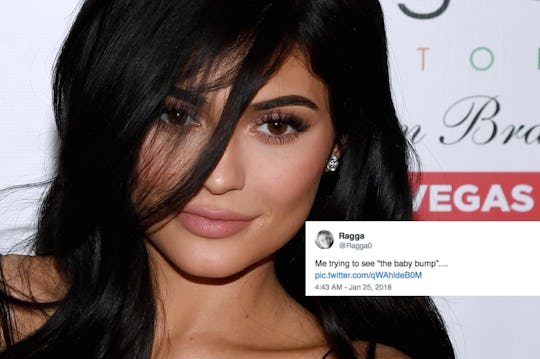 Ethan Miller/Getty Images Entertainment/Getty Images
This New Video Claims To Show Kylie Jenner's Bump, & Fans Are So Confused
Kylie Jenner reportedly spent the day at a construction site in Hidden Hills with momager Kris Jenner and friend Jordyn Woods on Jan. 24, and now a video claims to show Jenner's baby bump, according to TMZ. But fans are pretty confused since Kylie has been successfully hiding from paparazzi and social media since late September, when rumors first surfaced that she was pregnant with her first child with boyfriend Travis Scott.
The outing is actually the first time the makeup maven has been spotted in the real world since September, according to TMZ, and that's kind of a big deal for fans who have been waiting for any clues as to whether Kylie is actually pregnant. A lot of fans were starting to believe that Kylie already gave birth, and some started guessing that she was actually sister Kim Kardashian's surrogate all along, according to Hello Giggles.
And now fans are especially confused. The blurry, possibly cell phone-quality video that TMZ shared (which you can watch here) isn't exactly explicit, after all. Twitter users have been commenting on the thread with a slew of questions and memes to describe their reactions to watching it.
"It looks like she labors a bit as she gets into her SUV to leave," TMZ reported. But some fans, evidently, do not agree.
One Twitter user pointed out everything they found questionable about the video: "You don't see anything really and the picture just looks like her clothes are baggy and also the tmz logo is plastered on it so you can't make out a bump."
Another skeptical Twitter used asked TMZ if it actually paid someone for the video.
And a whole bunch of Twitter users shared how they're still not convinced...
Ultimately, Kylie's followers are not thrilled with the quality of the video, and they want to see more evidence. Or, you know, they want Kylie to come out of her hiding and break the news herself. But if she is pregnant, can you blame her for wanting some privacy away from stalker-style cell phone cameras?
Kylie has indeed been exceptionally quiet on social media in the last few months and hasn't even posted a selfie. The last time fans caught a glimpse of the makeup mogul was in one of Khloé Kardashian's Snapchat posts from Christmas, according to Hollywood Life.
Kylie also recently appeared in the KENDALL + KYLIE SS18 campaign for her and sister Kendall's latest footwear collection for Forever Unique, and there was no sign of a baby bump — but that shoot was reportedly completed before the rumored pregnancy, according to Cosmopolitan. She also just made an appearance in Calvin Klein's SS18 global campaign with her sisters, E! Online reported, but it was shot in October. And, in all of the images and video Kylie is suspiciously covering her stomach. Literally, in every single image.
An "inside source" told Us Weekly that Kylie is reportedly "very happy about the pregnancy" but doesn't want to share it with the world. "She spent her adolescent life on television and has been famous for over 10 years," the source said. "If this is the first thing she wants to keep to herself, she should be allowed that."
Preach.
Sources first said that Kylie is expecting in February, according to Teen Vogue. Then photos taken in September surfaced showing off the Keeping up With the Kardashians star's belly, and it threw off everyone's timeline of her rumored pregnancy, according to Hollywood Life. Fans started suspecting that she was due sooner — by the first of January, they were expecting a new year and a new Kar-Jenner baby. And, now, the new video suggests that she might still be pregnant...
This developing urban legend, if you will, has produced what could arguably be the longest string of clickbait headlines in the history of clickbait headlines.
Check out Romper's new video series, Romper's Doula Diaries:
Watch full episodes of Romper's Doula Diaries on Facebook Watch.
Editor's note: After publication, we discovered this article did not meet our editorial standards. There were portions that did not correctly attribute another source. It has been updated to meet our standards.