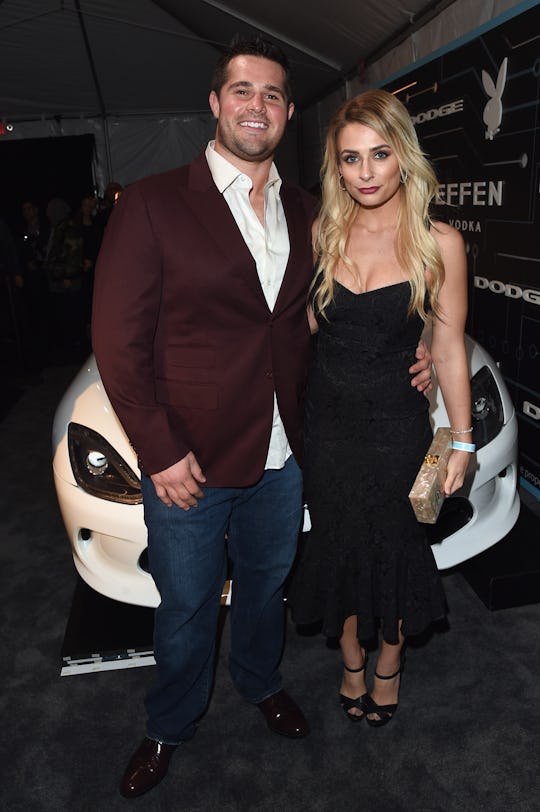 Jason Merritt/Getty Images Entertainment/Getty Images
This NFL Player's Sex Reveal Party Featured A Bucket Of Gatorade In An Adorably Epic Way
In the NFL, a gatorade shower is typically reserved for post-game glory. The player who scored the winning touchdown or the coach who led the team to a triumphant win will be innocently giving an interview, when his teammates suddenly douse him with a giant cooler of Gatorade. But now, thanks to an NFL player's baby's gatorade-themed sex reveal, the gatorade shower has a whole new — and very adorable — meaning.
Andy Levitre, who plays for the Atlanta Falcons, and his wife, Katie Levitre, a blogger and former NFL cheerleader, are expecting a second child together. So when it came time to choose a creative way to find out the sex of their upcoming child, it's only natural that they took a very football-themed approach. On Wednesday, Katie and their daughter Lily stopped by the Falcons' training camp for a special ceremony. As seen in a video Katie shared on Instagram, Andy stood on the field surrounded by his teammates, with Katie and Lily smartly standing several feet away.
Andy and Katie held up signs that read, "A Gatorade shower will let us see, boy or girl, what will it be?" On the count of three, his teammates doused him with Gatorade from coolers. And what color was the Gatorade, you may ask? Well...
The Gatorade was blue! A few seconds after the shower, someone handed the couple a sign reading "it's a boy!" meaning Andy and Katie will be giving Lily a baby brother. The Falcons began cheering for their teammate, and Andy and Katie both looked so excited — although Lily looked a little uncomfortable with all the cheers and Gatorade flying everywhere.
"OMG!!!!!! Baby Levitre #2 is a...... Thank you to the entire @atlantafalcons staff for helping us pull this off!!!" Katie captioned the heartwarming video on Instagram. Andy shared the video as well, which he captioned, "Gender reveal for our new baby. Its A.......!!!!!"
Andy and Katie announced they were expecting another baby — due on Feb. 4, the day after the Super Bowl — in late July, according to CBS Sports. In addition to the super cute photo shoot they posted on Instagram to announce the news, Katie opened up about her pregnancy on her blog, The Imperfectionist Mom. She explained:
We also wanted to wait until we knew the baby would be born after football season, so I didn't go into labor during a playoff game AGAIN. I counted 40 weeks from the day we were going to start trying and it fell 2 weeks after the Super Bowl. In the clear, right? Plus…I wouldn't get pregnant on the first try anyway, right? WRONG. First of all, I forgot to count 40 weeks from the day of my last period NOT the day of conception. Second, we did get it right on the first try! So now I have a baby due the day after the Super Bowl!
If you're wondering what she meant by "AGAIN," you're in for a pretty epic story. In January 2017, Katie cheered her husband on from the stands during the NFC Championship Game — while in LITERAL LABOR.
"My wife went into labor right before the game started. She came to the game and sat through the game while she was in labor" Andy told FOX 5 Atlanta at the time. "I went and showered up, came outside we went home for like an hour, went to the hospital and then she gave birth."
It's clear that Katie is an absolute champ. And should the Falcons make it to the Super Bowl this year, and should Katie give birth around her actual due date, the Levitre family will definitely deserve a few weeks off.