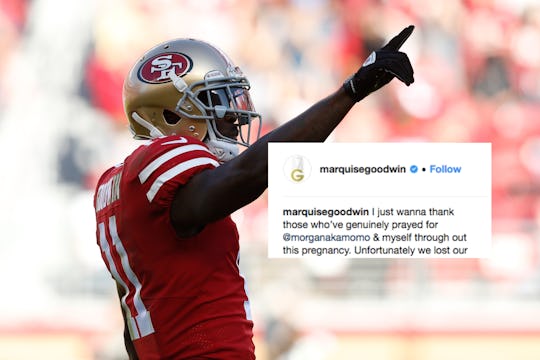 Lachlan Cunningham/Getty Images Sport/Getty Images
This NFL Star's Post About Losing His Premature Son Is Heartbreakingly Relatable For Many Parents
Even if you're not a football fan, it's common knowledge that NFL stars aren't often praised for their vulnerability or emotional honesty. Football players tend to be portrayed as tough and unflappable, and one can only imagine the pressure athletes face on a daily basis to appear strong. And that's part of the reason why one NFL star's poignant message about losing his premature son is moving a lot of people — it's heartbreaking, and reminds people that even those we admire deal with incredibly difficult experiences behind the scenes. Warning: This article contains an image that might be triggering or graphic to some readers.
On Sunday, Marquise Goodwin, a player for the San Francisco 49ers, took to Instagram to reveal he and his wife lost their son due to pregnancy complications. Goodwin wrote, according to NPR:
I just wanna thank those who've genuinely prayed for @morganakamomo & myself through out this pregnancy. Unfortunately we lost our baby boy due to some complications, and had to prematurely deliver him early this morning around 4am. Although we are hurt, I am grateful for the experience and grateful that God blessed me with a wife as courageous and resilient as Morgan. The pain (physically, mentally, & emotionally) that she has endured is unbelievable. Please Pray for the Goodwin family. 💙👣
It goes without saying that Goodwin didn't have to share his story and pain with the public. The point is, Goodwin chose to share his loss and "hurt" with fans, and that's what's so moving about it. Goodwin's story of loss is important for many reasons, but especially because his honesty has touched a lot of fans and inspired them to share their stories of pregnancy loss. Considering 10-25 percent of pregnancies end in miscarriage, according to the American Pregnancy Association, one can only imagine how many parents and families Goodwin has made feel a little less alone and a bit more seen with his message.
Goodwin's wife, Morgan Akamomo also took to Instagram to share her perspective on the loss and to discuss her admiration for her husband. Akamomo wrote, according to Instagram:
This whole week has taken an emotional toll on my husband and I, Struggling to keep our healthy baby safe in my womb. However, God had other plans for us. Today, I had to deliver my precious baby boy early this morning due to preterm labor. Despite our loss, my hubby kept grinding, scored his son a touchdown & got our first "W" of the season. He had a wonderful game today. I️ appreciate everyone who kept us in their prayers and constantly checked in on us. This was truly and an amazing experience and it was also a tragic experience. But that's okay because we won't stop fighting and we won't give up on what God has in store for us. It's just important for us to remember that things happen for a reason, even though we may question ourselves "why us." Our faith is strong. I just ask that you let us mourn in peace and ask that you not try and call/blow our phone up. #RIPBabyGoodwin #PretermLabor #PregnancyLoss #StayingStrong.
Following Goodwin and Akamomo's heart-wrenching posts, countless fans took to the pair's comment sections to open up about their own experiences. Fans wrote, according to Instagram:
Sorry for your loss...my wife and I went through exact same thing...feel your pain!
I know what it's like to lose a son.. and I'm praying for the strength of you 2.. the pain never truly goes away but i do hope that with time it doesn't weigh such a burden. My prayers are with you and your wife, all the best 💙
I had tears running down my face when I read this. We lost our son due to complications also. 💙💙 My heart and prayers go out to you and your family.
I'm sorry for you loss. My wife and I just went through this is April. 😩😢Praying for you!
A player for the 49ers who has experienced the same heartbreak we have. 😔
You don't know me but I read your story and I am praying for your family. I went through the same thing with my grandson. Know that God had a purpose in all of this that will be revealed in time. Your angel is watching over you all.
Anyone who has suffered a loss can probably agree that grief and loneliness often go hand in hand. When you're going through something tough, it can be incredibly isolating — you might struggle to relate to anything or anyone. The phenomenon of feeling isolated in grief is exactly why messages like Goodwin's are so special and important, because people deserve to be reminded that they're not alone. That it's OK to feel hurt and that it's perfectly fine to be upfront about your feelings. Of course, no one who has lost a child or loved one is required to share their story or a detailed account of their suffering. But opening up about loss, especially pregnancy loss, which goes undiscussed despite its frequency, can be powerful and healing to those who feel like they couldn't talk about their pain.
The same day Goodwin shared the message about his son — the same day his son died — he starred in a game against the New York Giants. Goodwin caught a touchdown pass during the game, according to The New York Post, and he broke down on the field after making the catch:
Many viewers of the game probably didn't understand why Goodwin got so emotional in the end zone, and they likely assumed it had to do with scoring a touchdown. The real reason, however, is way more touching and important, and it shows that the people we idolize are often suffering from tragedies and struggles just like the rest of us. Goodwin is incredibly brave for putting his emotions out there for the world to see, and his honesty has likely helped countless parents.