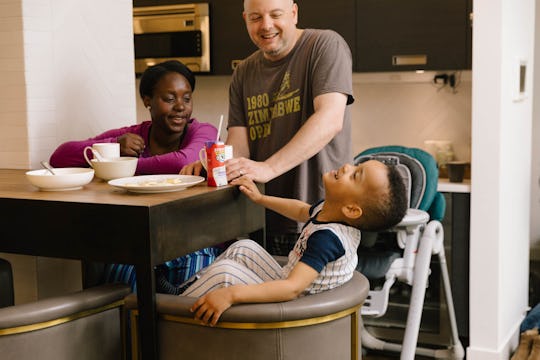 Ashley Batz/Romper
This One Analogy Could Actually Help You Understand Your Toddler's Tantrums
Toddlers are notoriously strange and complex creatures. They throw tantrums without notice, say inappropriate things at the worst times, and have the magical ability to flip from demon spawn to an majestic angel at the drop of a hat. De-coding all of that is taxing and may require strategic planning on your part, so you can stay one step ahead of their mind-trick mastery. If you've run out of ideas on how to get on their level, this one analogy could help you understand your toddler's tantrums a little bit better.
Let me backtrack. When I was new to parenting, caring for and understanding my daughter was like trying to solve a 1,000 piece jigsaw puzzle in two minutes. How did she work exactly? And what could I do to help her flourish? I had no clue. And once I thought I was nailing the whole mom thing, she entered toddlerhood and things took a dramatic, downward turn. All of the sudden, I was back at square one. Unsure of who this little girl was, or how to connect on her level, I fought the whole process and I think it hindered the natural progression of our relationship. If you're experiencing similar growing pains, stop and think of this analogy before you react:
Children are a garden. If you tend to them properly (and patiently), they'll thrive.
Sounds easy enough, right? I know it's more complicated than that, but even still, whenever my daughter and I came to a stand-off, I thought of her as my garden. Did I want to nourish her roots so she'd grow, or did I need to be "right" and steadfast in my parenting?
After the birth of my youngest, I took a different approach to parenting that completely centered around him being that garden. The less I fought against the natural route of his stems, the better off he was. So with that in mind, here are some of the ways the garden analogy helped me better understand both my toddlers, and myself as their guardian, while maintaining some level of composure and sanity.