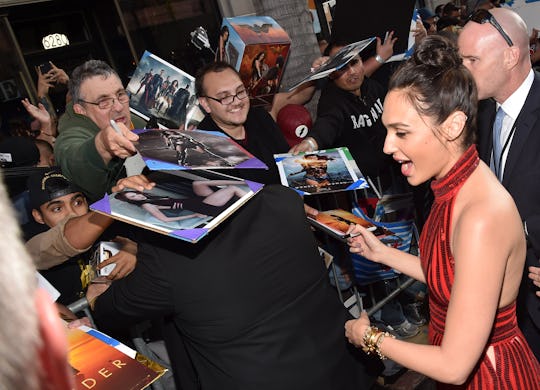 Alberto E. Rodriguez/Getty Images Entertainment/Getty Images
The Most Badass Detail About 'Wonder Woman'
Aside from smashing box office records and being the first female-led superhero film, this one detail from Woman Woman is actually the most badass thing about the action flick. As Entertainment Weekly reported, Gal Gadot was pregnant with her second child throughout much of the filming and even finished shooting some additional scenes when she was five months into her pregnancy. At that point, her bump was reportedly no longer "inconspicuous," so the film's costume department had to cut "an ample triangle" from the front of her signature Wonder Woman suit and replaced it with a bright green cloth, which would allow it to be edited in post-production by special effects.
"On close-up I looked very much like Wonder Woman," the 32-year-old Israeli actress told Entertainment Weekly. "On wide shots I looked very funny, like Wonder Woman pregnant with Kermit the Frog."
Of course, only she'd be able to notice a detail like that. Instead, everyone else is stunned that she seemingly has real superhero powers off-screen given that she pulled off a literal stunt like that.
"She's pregnant during part of the movie, in a suit out in a field in the freezing cold in others," Patty Jenkins, the director of the film, told Entertainment Weekly of Gadot's tireless work ethic. "There are so many things we asked her to do: Now do it on one foot. Now shout while you're doing it. Now it's raining in the freezing cold and you've lost your voice, go. Everyday it was a hilarious gauntlet and she would do it."
"Now, at least, we will be able to tell her [new] daughter Maya that she's in her mom's stomach right then, in the middle of that battle scene," Jenkins added in the same interview.
In March, Gadot announced on Instagram that she and husband Yaron Versano welcomed said daughter, Maya. They're also parents to a 5-year-old daughter named Alma.
"And then we were four... She is here, Maya. I feel so complete blessed and thankful for all the Wonders in my life," she captioned the black-and-white-shot of her family standing in front of her new daughter's stroller at the hospital on their way home
There are a lot of reasons why Wonder Woman was a phenomenal film: The cast was incredible, the fight scenes were perfect and made a lot of people very emotional, and what happened behind-the-scenes makes the movie all the more empowering. If Gadot can film action scenes in the freezing rain while she's several months pregnant, we can at least conquer the week ahead.
Thank you, Wonder Woman, for giving us another dose of inspiration.