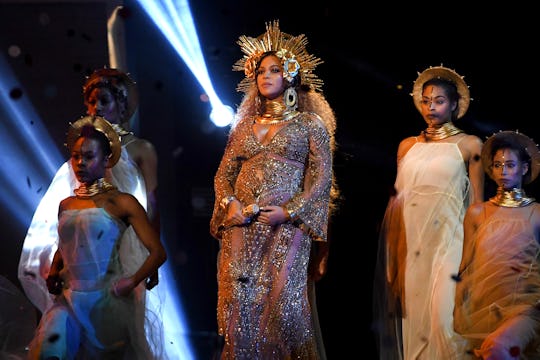 Kevork Djansezian/Getty Images Entertainment/Getty Images
Hey Everyone, Sir Carter Could Actually Be A Girl
The only thing more exciting than learning about the arrival of Beyoncé's is learning the names of said babies. TMZ was the first to break the news about the twins' names Friday afternoon, leading to a lot of chatter on the internet. But in the midst of sharing their opinions (and, in some cases, passing judgement), people are missing a very important detail about Beyoncé's baby names that will, hopefully, change any negative train of thought.
According to TMZ, Beyoncé named her twins Rumi and Sir, but did not specify which name was given to the girl and which name was given the boy. So, naturally, the internet took it upon itself to assign the names to the genders. Shockingly — or, not-so-shockingly, depending on your mentality — many people assumed that Rumi was the name given to the girl and Sir was the name given to the boy.
I don't want to fault these people too much. After all, "sir" is the typical term used when formally addressing those who identify as male. But if you actually take a second to dive into the meaning of the name, as most parents do before selecting the moniker that will be stuck with their child for a lifetime, then you may find yourself thinking "wow — assuming the baby named Sir was the 'boy baby' was kind of a sexist thought."
Now, you have to bear with me for a second, as the meaning behind the name Sir isn't so cut and dry. (Why would Beyoncé and JAY-Z make it that easy for us, right?) According to Behind The Name, Sir is the Catalan form of Syrus, the less popularly spelt version of Cyrus. Most people associate Cyrus as a boy's name, but this is the 21st century and it's time to let go of the idea of gender-specific names and the assumption that any particular name is gendered at all. After all, the gender-specificity is not important here — the meaning is. According to Name Berry, a popular baby naming site, Cyrus means "throne," a piece of furniture designated for the butts of royalty. And, in the eyes of Hollywood, that is exactly what Sir Carter's parents are. I mean, Beyoncé's nickname is Queen Bey for a reason, people.
Of course, a lot of this is based on assumptions. As of now, no one but Beyoncé and JAY-Z know which child has which name or the significance behind the monikers. If, however, they did name the female twin Sir, then they are sending their children (and the entire world, as a result) some strong, important messages.
To start, they are reiterating the idea that gender is a construct that society has created by designating certain roles, activities, and even colors to the sexes. But gender isn't a black and white thing. According to CNN, many people believe gender is fluid and part of a spectrum, and that a person's gender is not defined by their choice of hobbies or the color of the clothes. If a little girl named Riley can understand that, shouldn't the rest of society?
Then there's the whole nobility factor. As mentioned earlier, "sir" is a term associated with male nobility, which is further associated with power. But, as Beyoncé herself has proven, power is not limited to men. In fact, Beyoncé secured the second spot on Forbes' 2017 Celebrity 100 List, which ranks the top celebrities in the world based solely on their net-worth. (Beyoncé pulled in a cool $105 million in 2017, for what it's worth.) Meanwhile, her husband JAY-Z found himself in the 55th spot on the list. But her power is not determined solely by her income. After her sixth solo album Lemonade debuted at No. 1, TIME reported that Beyoncé was the first artist — man or woman — to ever top the Billboard 200 list for six consecutive albums. You don't break those kind of records unless you've ben able to cultivate a loyal band of followers and create something that people not only want, but need in their lives.
Finally, there is the very simple message that men and women are — or, at least should be — treated as equals. Your rights should not be determined based on your sex, as all humans should be give equal rights. Your sex should not determine what you are capable of, because only you can decide that. And your sex should be no means dictate what you are named — that's a job left up to your ***flawless parents.