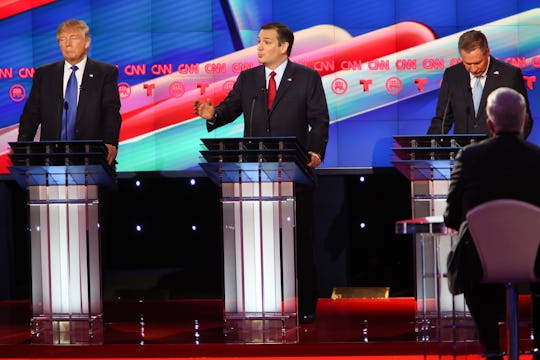 Pool/Getty Images News/Getty Images
This One GOP Debate Tweet Summarizes The Chaotic Night Perfectly
Let the mud-slinging begin: Another round of Republican primary revelry has arrived. On Thursday, the chaotic CNN showdown was an all-out slug-fest once again, as front-runner Donald Trump verbally sparred with his rivals, Texas Sen. Ted Cruz and Florida Sen. (Ben Carson and John Kasich were also there, in case anyone forgot.) In the midst of all the naysaying and political bloodbath, social media seemed to be especially on point, eagerly taking on the GOP debate, with one particularly relevant tweet summarizing the evening's events perfectly.
"Wow #GOPDebate getting vicious," wrote BBC North America Editor Jon Sopel, early in the evening. "Hugely enjoyable like mud wrestling, but is this what future leadership of free world looks like?"
Sopel's sentiments were echoed by dozens of Twitter users on Wednesday night, one of whom noted that the flurry of political arguments put even the bitterest of feuds to shame. "I've seen taxi drivers have arguments more civil than this," joked actor Adam Rose, remarking on the obvious hostility coating each candidate's come-back.
The remarks were largely representative of the overall mood going into Thursday night, with the swiftly narrowing field of candidates ramping up their rhetoric to seemingly tone-deaf levels (perhaps with the lagging candidates hoping to match Trump's bombastic extremes).
At certain points throughout the evening, the clamor from the debate stage grew so chaotic that viewers at home and in the audience could barely tell what was happening or who was speaking. Between angrily hammering away at corporations with whom he disagreed (hello, Nabisco), and laying into Rubio with exceptional glee, Trump seemed to be leading the charge.
"Be quiet," Trump said, scolding rival Rubio at one point, after Rubio drudged up Trump's record of allegedly hiring illegal immigrants in the past. "Just be quiet."
No one expected the evening to go any differently, of course. In recent weeks, the GOP race has set the record as one of the darkest and dirtiest in years, with the top three candidates increasing the level of aggression in an attempt to outmaneuver one another. And although, numbers-wise, there are a few definitive leaders, picking one specific candidate capable of portraying themselves in a collected, presidential manner is getting tougher and tougher.
While some believed early on that Trump's demeanor and bully tactics specifically might eventually send him plummeting in the national polls, none of his commentary so far has made a dent in his lead (just the other day, Trump said that even "murder" wouldn't dissuade his followers from supporting him — one day later, an IBD/TIPP poll showed that his poll numbers had not budged). Perhaps it's indicative of the overall 2016 GOP campaign, which has seemingly seen better days, despite the growing fervor surrounding the upcoming Super Tuesday showdown.
Despite the fact that the race still has months to go, considering the all-out war on Thursday's debate stage, it would be a surprise if the candidates didn't simply pummel one another to a pulp before then.