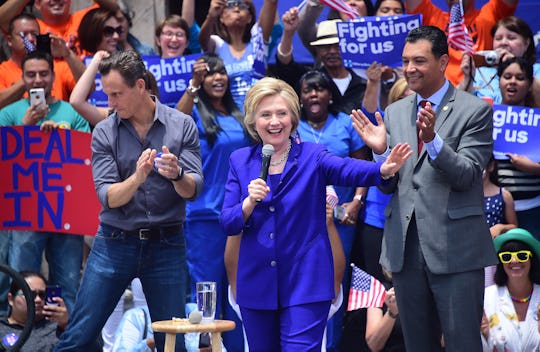 FREDERIC J. BROWN/AFP/Getty Images
This One Hillary Clinton Quote Proves Even She Knows She Has A Long Way To Go
On Monday night, Associated Press reports and campaign officials officially declared that former Secretary of State Hillary Clinton had earned enough delegates to take the 2016 Democratic presidential nomination. Standing before a crowd of supporters at a rally in Long Beach, California, Clinton was all smiles, excitedly shaking supporters' hands and thanking them for their support. Amid all the excitement and fervor inside the auditorium, however, there was one important Clinton quote that stood out from the rest.
"According to the news, we are on the brink of a historic, unprecedented moment," Clinton said, according to BuzzFeed, "but we still have work to do, don't we?" Clinton then took a moment to mention the impending California primary and the small wealth of state battles left, noting, "We have six elections tomorrow, and we're going to fight hard for every single vote — especially here in California."
Later, in a comment to ABC News, Clinton explained,
It's really emotional. And I am someone who has been very touched and really encouraged by this extraordinary conviction that people have. It's predominantly women and girls, but not exclusively. Men bring their daughters to meet me and tell me that they are supporting me because of their daughters. And I do think it will make a very big difference for a father or mother to look at their daughter, just like they can look at their son, and say, "You can be anything you want to be in this country — including President of the United States."
While it's true that Clinton will likely — and easily — secure the necessary superdelegates to take home the official Democratic nomination in the coming weeks, Clinton's rival, Vermont Sen. Bernie Sanders, has yet to conceded any victory, something that has not escaped Clinton and her campaign advisers. In a statement on Monday night, Sanders argued that the immediate jump to declare Clinton the official nominee was irresponsible.
"It is unfortunate that the media, in a rush to judgement, are ignoring the votes of superdelegates before they actually vote at the convention this summer," Sanders said. "Secretary Clinton does not and will not have the requisite number of pledged delegates to secure the nomination."
He continued,
She will be dependent on superdelegates who do not vote until July 25 and who can change their minds between now and then. They include more than 400 superdelegates who endorsed Secretary Clinton 10 months before the first caucuses and primaries and long before any candidate was in the race. Our job from now until the convention is to convince those superdelegates that Bernie is by far the strongest candidate against Donald Trump.
Whether or not the Sanders campaign ends up pushing on to the convention in July is still to be seen, though it certainly seems to be the case. For now, despite the victorious atmosphere inside the Clinton campaign headquarters, the primary race will go on.